Banana & Almond Butter Ice Cream
This frozen treat is made with only 2 ingredients and makes the perfect dessert.
I love ice cream. However, I never keep it stocked in the freezer because I would literally eat an entire pint in one sitting. The kids and I usually go out for a scoop once a week, but now I keep this Banana & Almond Butter Ice Cream on hand without worry.
When I was creating a recipe for the Banana Walnut Sundae, I was testing out homemade "ice cream" made out of frozen bananas and fell in LOVE with the flavor! The frozen bananas give it a great creamy texture similar to real deal. One of the greatest things about this recipe is that you can add a lot of different flavors to it and create a great tasting dessert.
Our family's current favorite is Banana & Almond Butter and we top it with Shredded Coconut and Almonds.
You guys….it's sooooo good! And I'm not one of those people who typically enjoy "light" ice cream. Even my kids love it and they are even more particular about ice cream than I am. I like that it's made solely with bananas and almond butter so I don't worry about the calories, fat, or extra sugar.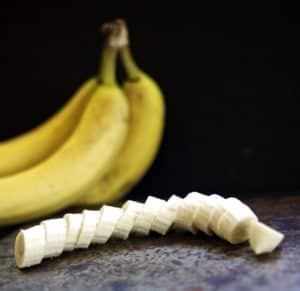 I use a Vitamix when making mine and it comes out so smooth and creamy. I think a regular blender would work just as well though.
Are you an ice cream fan? Let me know if you try the recipe and love it as much as we do!
Ingredients
4 banans, sliced and frozen
2 tablespoons almond butter
Optional Toppings: Shredded Coconut (unsweetened), Chopped Almonds
Method
Slice 4 banans and place in a sealable container
Place banans in freezer
Once frozen, place in high powered blender and mix until smooth & creamy
Add almond butter and mix again until smooth
Place in freezer safe container and place in freezer for at least 2 hours, until frozen
You May Also Like
A collection of healthier options for a kid's friendly valentine's day party that include naturally sweetened treats that kids and parents will love.
No Comments