Cantaloupe Panzanella Salad
I don't know if I've been living under a rock lately but I just recently discovered Panzanella Salad! I've been experimenting different recipes but this Cantaloupe Panzanella has been on repeat lately.
Panzanella is basically a tomato-bread salad that uses up an crusty, stale bread you may have laying around. The bread gets toasted in the oven and then when combined in the salad, it soaks up all the flavors and juices from the tomatoes, dressing and any fruit you add.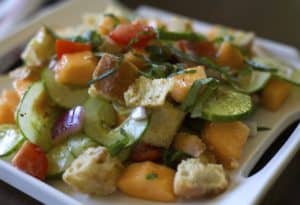 I've been trying to incorporate more fresh fruit into the dishes we enjoy at home. We eat fruit, but it's usually just as a snack or with breakfast. I am trying to jazz it up a bit and really make some fruit based dishes and meals. This Cantaloupe Panzanella Salad does just that by incorporating melon into the salad itself. I ate this for lunch (on repeat!!) and it was filling and refreshing. Perfect for summer.
As an extra bonus, cantaloupe is a great source of vitamins, minerals, and antioxidants. This hearty fruit can help reduce the risk of certain cancers, protect against harmful free radicals, and is great for your vision.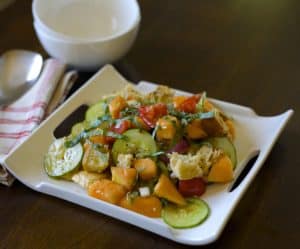 Making the Cantaloupe Panzanella salad is simple, but prep it early because it has to sit for awhile to absorb all the juices before eating.
Start by preparing the bread (the best part in my opinion). Cube your bread and then place in a bowl with olive oil, salt and pepper. Bake for about 5 minutes in a 350 degree oven. I like to prepare them so they are just lightly toasted and not too crunchy. If they are baked too long, they will be more like croutons and won't absorb as much of the salad flavors.
While the bread is cooking, slice the tomatoes, cucumber, red onion, cantaloupe and basil and add to a large bowl. Let the bread cool slightly before adding to the bowl. Once added, season with salt and pepper and then mix together using your hands and slightly squish the salad with your hands to extract the fruit and tomato juices.
I like to just lightly dress the salad with olive oil, lemon juice, and a splash of red wine vinegar. Let the salad sit on the counter for about 30 minutes before eating. This allows all the flavors to marinade together and lets the bread absorb all the wonderful flavors.

Cantaloupe Panzanella Salad
Author:
The Domestic Dietitian
Prep time:
Cook time:
Total time:
This Cantaloupe Panzanella Salad recipe is fresh, filling and refreshing. The toasted bread absorbs the tomato and cantaloupe juices and tastes amazing.
Ingredients
½ loaf crusty bread
3 tomatoes, quartered
¼ red onion, thinly sliced
1 cucumber, cut into half moons
½ cantaloupe, cut into bite size pieces
¼ cup basil, chopped
Olive oil
Juice of ½ lemon
Red Wine Vinegar (just a splash)
Salt and Pepper, to taste
Instructions
Preheat oven to 350 degrees
Cut bread into bite size cubes and add to a bowl. Toss with olive oil (about 2 tablespoons) and salt and pepper
Lay bread in single layer on a sheet pan and bake in the oven for about 5 minutes. Just until bread is lightly toasted and golden brown.
In a large bowl, combine tomatoes, cucumber, red onion, and cantaloupe
Once cooled, add bread pieces to the bowl
Drizzle with olive oil, lemon juice, red wine vinegar, salt and pepper
Use your hands (or tongs if you prefer) to combine salad together
Lightly squeeze the juices out of the tomatoes and cantaloupe as you are mixing to allow the bread to absorb
Top with fresh basil
Allow the salad to sit and marinade about 30 minutes before eating
Are you a panzanella salad fan? Share your favorite combination below!
No Comments