0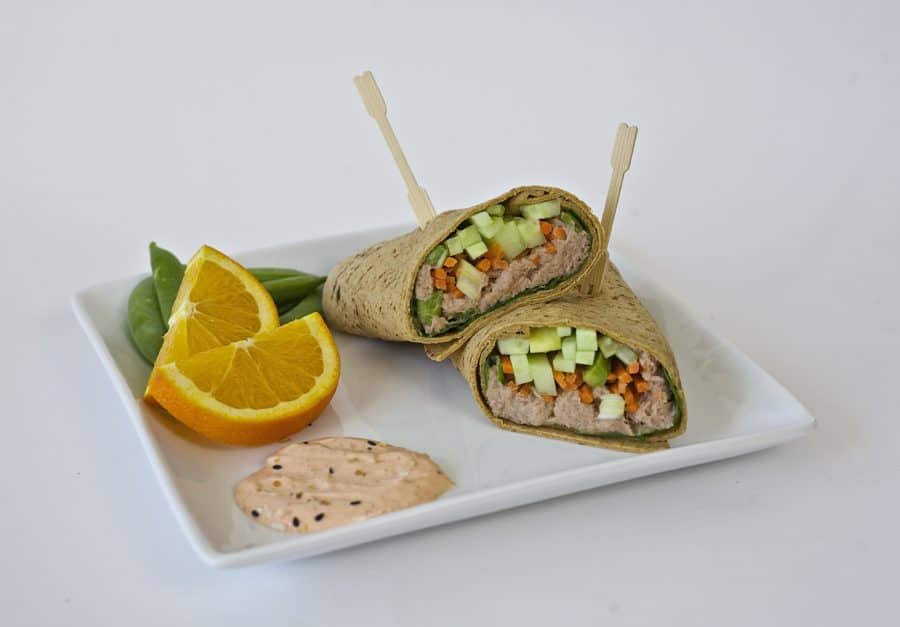 Spicy Tuna Wrap – Healthy Lunch Idea
This spicy tuna wrap recipe combines a tuna fish sandwich with a spicy tuna sushi roll. A great healthy lunch idea that can be taken on the go. Tuna fish sandwiches were a favorite of mine growing up. My mom's tuna salad preparation will always be one of my favorites, but it definitely isn't healthy. It involves canned tuna, lots of mayo, celery, onion and hard boiled egg. Piled high on some white bread and you have one of my favorite comfort foods. As I have become an adult (and a ...
Continue Reading
3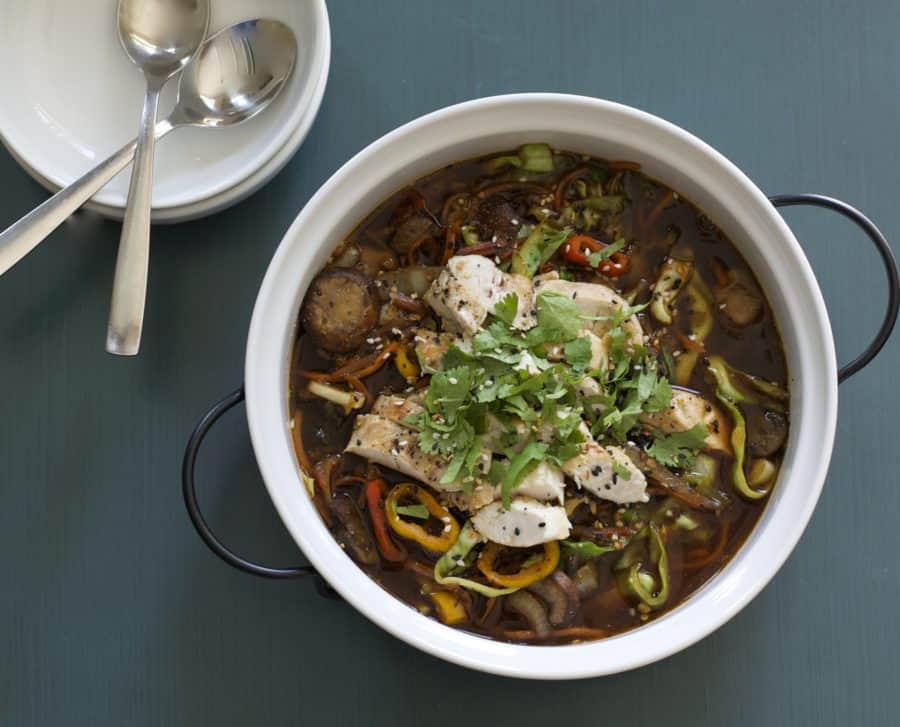 Chicken Soba Noodle Broth Bowl – Healthy at Home
This delicious Chicken Soba Noodle Broth Bowl recipe is based on a popular restaurant's dish, but can easily be made at home for a much more budget friendly, healthy meal. There is nothing I love more than settling into a cozy booth at lunch with a fancy sandwich, gourmet salad, or gigantic bowl soup with a warm, crusty baguette on the side. So it would come as no surprise that I absolute love Panera. I think their food is fresh, delicious, and filling. Not to mention that I am a sucker for ...
Continue Reading
8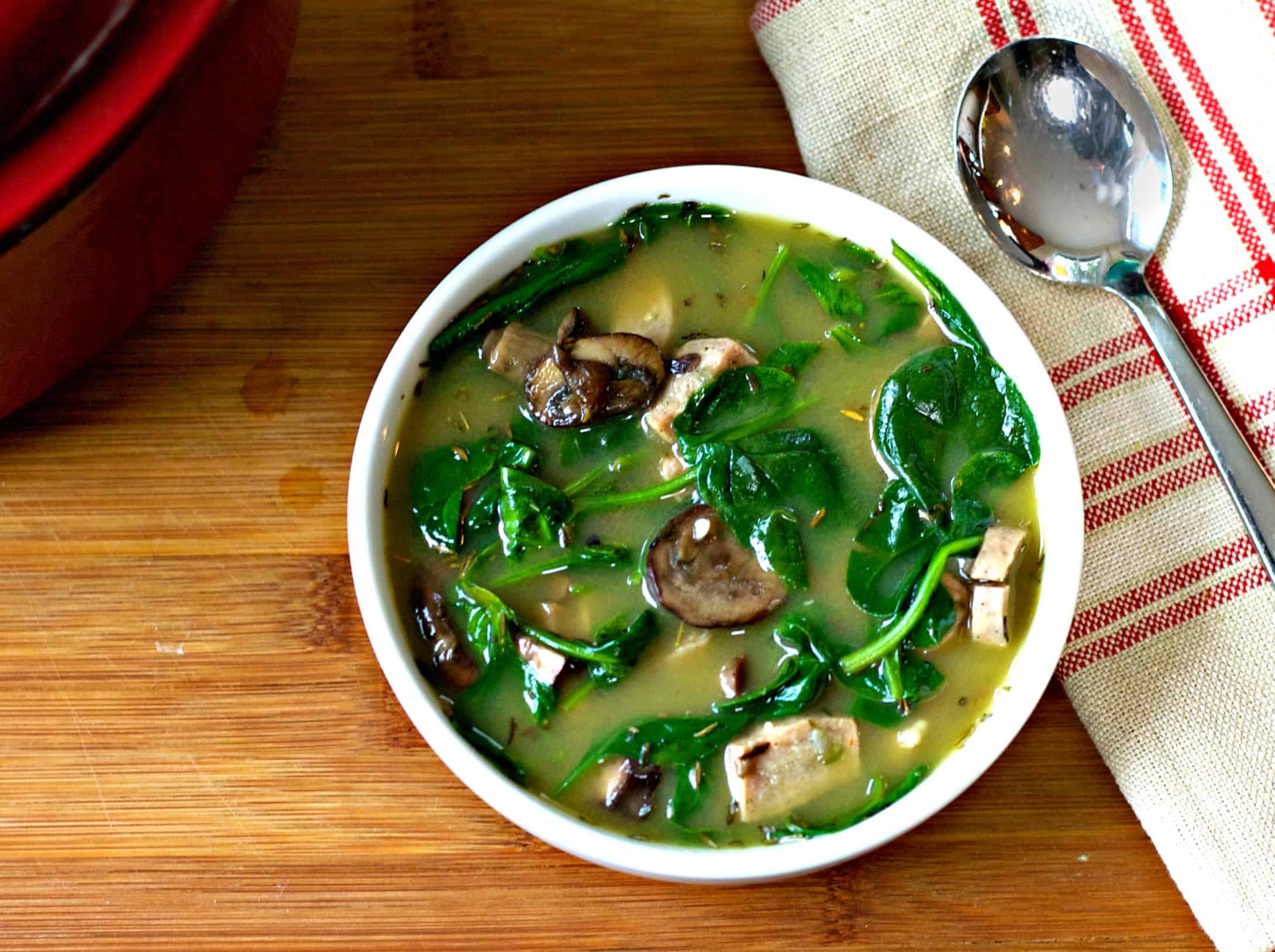 Sausage and Spinach Soup
This rich and flavorful Sausage and Spinach Soup recipe is a great way to create a healthy meal using leftover ingredients in your fridge and pantry.
Continue Reading
Coconut Caramel Affogado
One of my favorite parts about having people over for dinner is creating a fun menu that definitely includes dessert. Growing up, we always had dessert when my parents had people over. That tradition still rings true for me, even though my husband is anti-sweets. The saying opposite attracts is true, at least in our household. However, I often found that I'd prepare too much food and that no one had room left for dessert after the meal. To matters even worse, I'd be stuck with an entire ...
Continue Reading
Healthier Chicken Parmesan – Meal Makeover
An easy meal makeover, this Healthier Chicken Parmesan utilizes the same ingredients as the traditional recipe, just less quantities resulting in that same delicious flavor but less calories and fat.  Everyday Favorites versus Occasional Indulgences There are certain foods that I think should just be enjoyed as they are, in all their unhealthy fat and caloric glory. For example, I don't think anything fully compares to a really juicy cheeseburger topped with crisp bacon.  The key is to ...
Continue Reading
4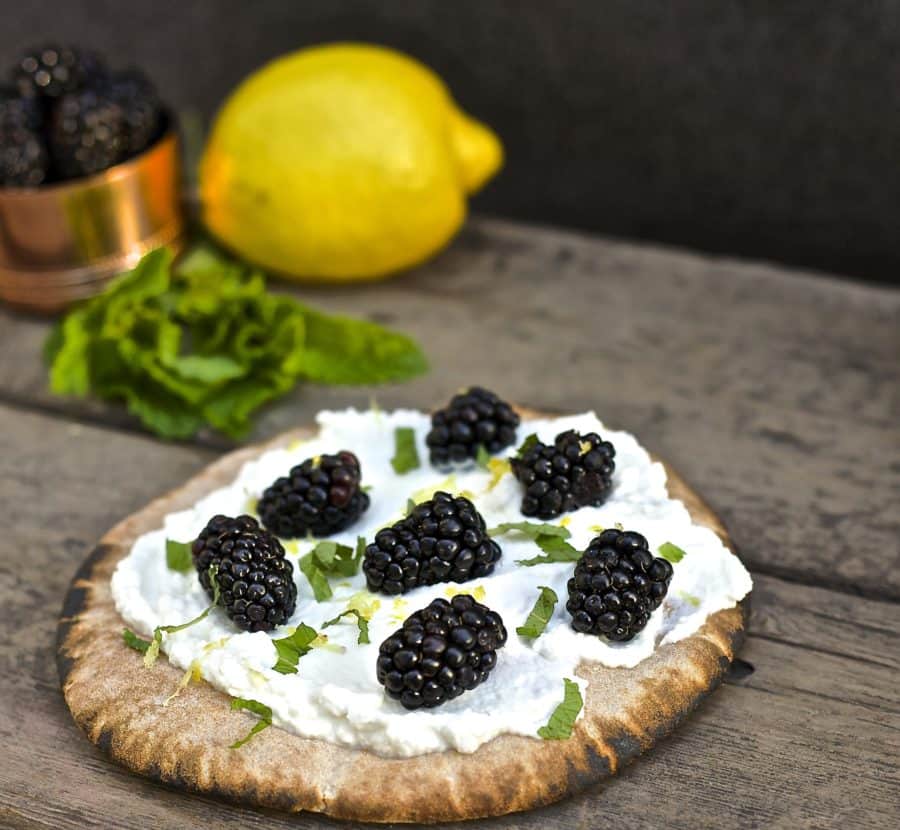 Blackberry Ricotta Pita
(Disclosure: I received free samples of Toufayan Pita mentioned in this post. By posting this recipe I am entering a recipe contest sponsored by Toufayan Bakeries and am eligible to win prizes associated with the contest. I was not compensated for my time.) One of my favorite simple but decadent breakfast recipes is to take a toasted piece of sourdough bread or bagel and top it with creamy ricotta cheese and fresh berries. It's just so simple but full of flavor! However, I don't have it ...
Continue Reading
2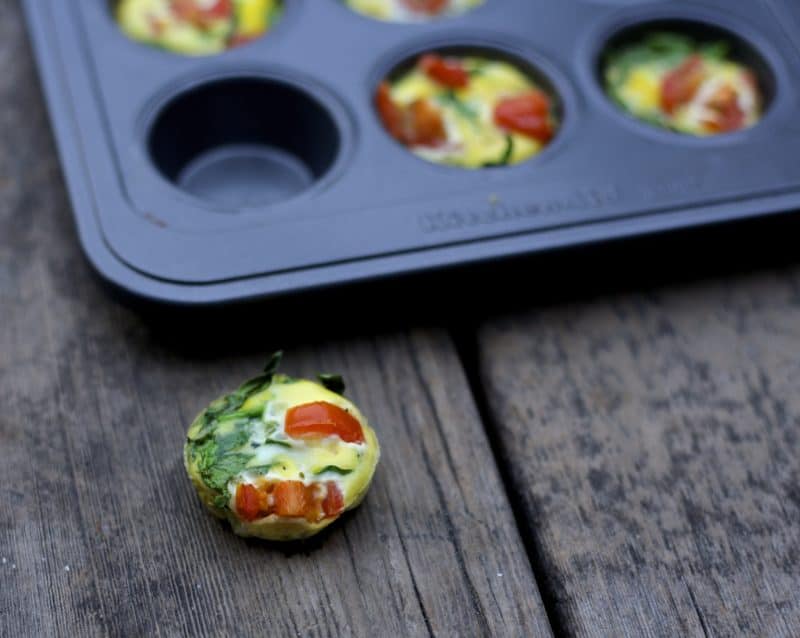 Spinach and Tomato Egg Muffin Recipe
This Egg Muffin recipe is an easy, quick and healthy breakfast that can be made in advance and taken on the go for those hectic mornings.  Let me preface this post by saying that I am entirely aware that I am lucky that I only have to be up and out of the house by a certain time 2 days each week. Since I work from home, my schedule is pretty flexible. However, on those 2 days that I have to be at school drop off on time, breakfast gets a bit hectic. These Spinach and Tomato Egg Muffins ...
Continue Reading
12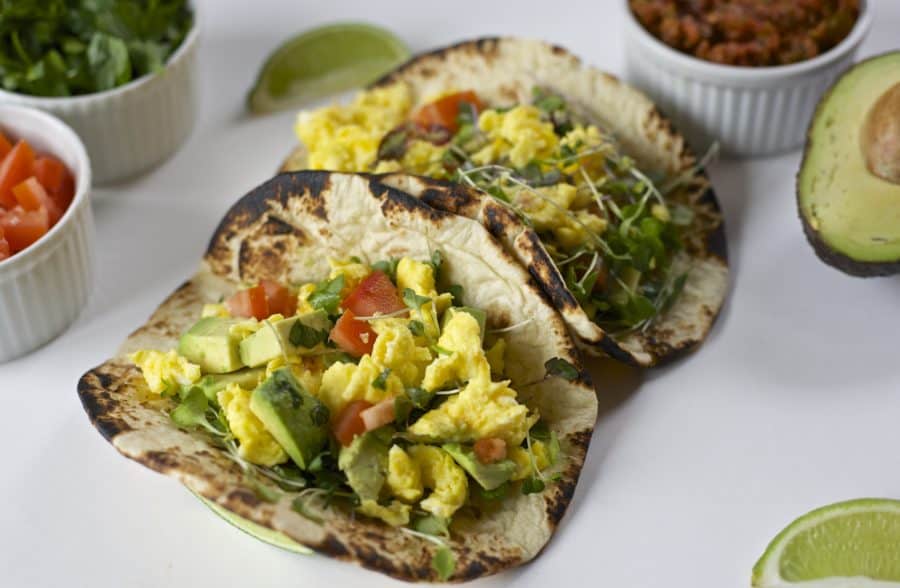 California Breakfast Tacos
These California Breakfast Tacos use fresh and flavorful ingredients to start the weekend off right. Happy Taco Tuesday! Perhaps it's because we grew up in California, where you can get a decent authentic taco at the gas station, but my husband and I are huge taco fans. We love them so much that we even had Rubio's Fish Taco's cater our wedding! The theme for this month's Recipe Redux challenge was to share a healthy taco recipe in honor of Taco Tuesday. I've previously ...
Continue Reading
21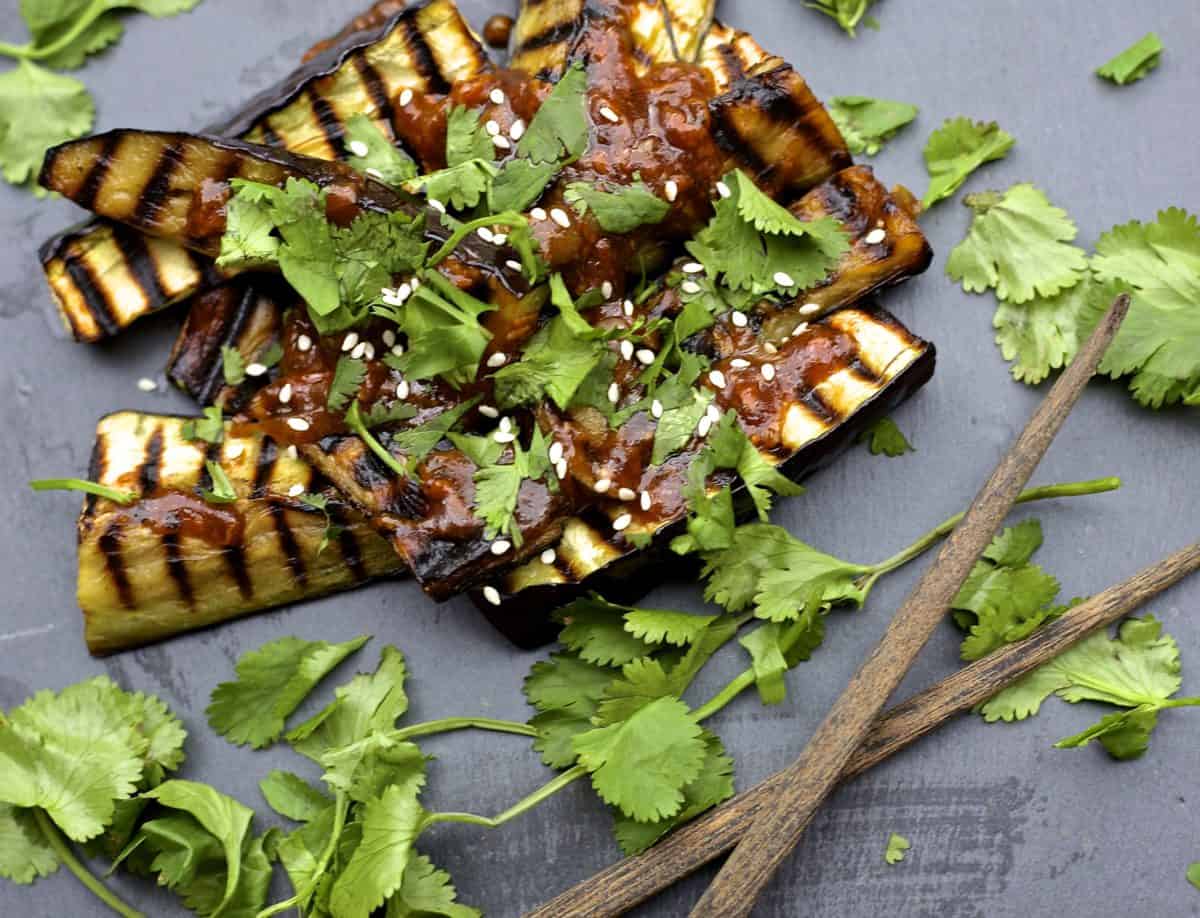 Grilled Sichuan-Style Eggplant – Food Blogger Love
Sharing the Love this Valentine's Day with this Grilled Sichuan-Style Eggplant recipe. Perfect for Meatless Mondays and an easy weeknight dinner dish.  One of the best parts of being a blogger is being a part of the wonderful communities and the people you get to know. There is so much love in many of these communities, full of people supporting each other and hoping for each other to succeed. In honor of Valentine's Day, the #FoodBloggerLove community paired up to make a recipe from a ...
Continue Reading
Spicy Mushroom Spinach Frittata
This Spicy Mushroom Spinach Frittata recipe featuring Raw Spice Bar is the perfect brunch recipe! Disclosure -I received free samples from Raw Spice Bar however I was not compensated and all opinions expressed are fully mine.  Whoever invented Brunch should be given a nobel prize. It's honestly the best idea ever. A late weekend breakfast that includes foods of all kinds, including cocktails. What's not to love! I love hosting brunch at my house.  I used to get very stressed when ...
Continue Reading