6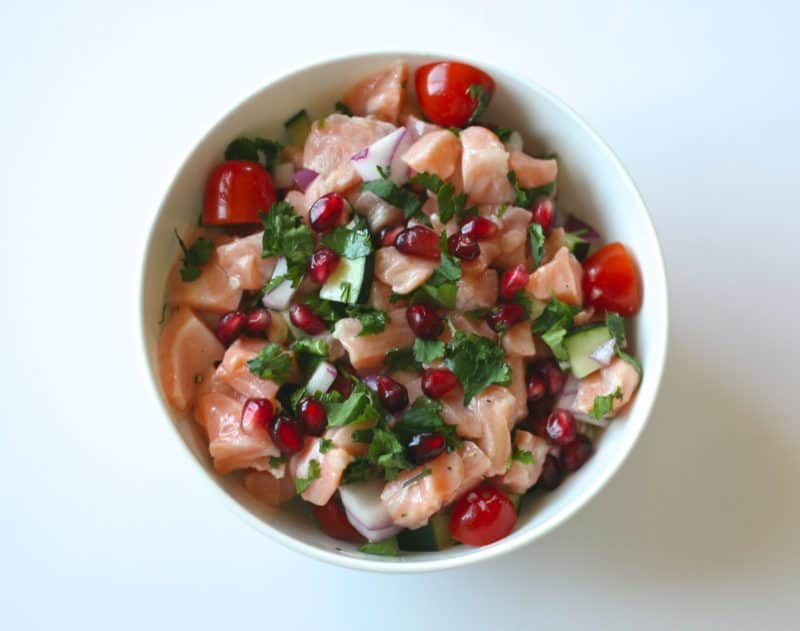 Salmon Ceviche – Recipe Review
I don't know about you, but I just love those types of dishes that are made with fresh, flavorful, and crisp flavors. They make me think of sunshine, fresh air, and keep you feeling satisfied but not like you could burst the button on your pants. I stumbled across this recipe for Salmon Ceviche on Lyndi Cohen's Nude_Nutritionist's Instagram a few weeks ago and couldn't stop staring at the photo! I took a screenshot of it (that's how I remind myself of recipes I want to try from Instagram) ...
Continue Reading
10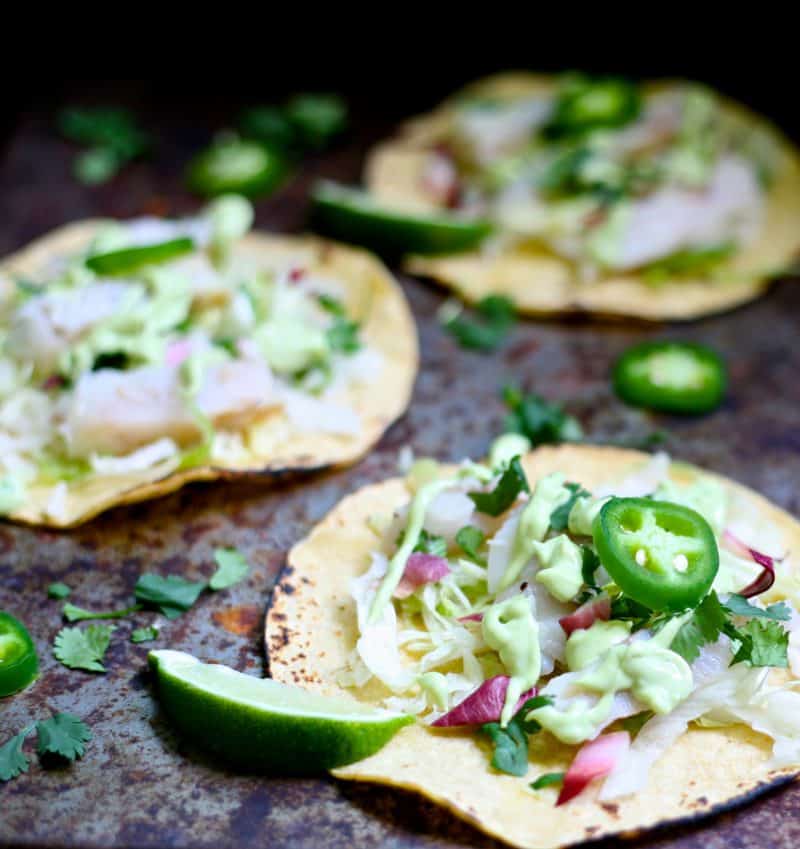 Grilled Fish Tacos with Avocado Jalapeño Cream
I love fish tacos. I love them so much that when Dan and I got married, we served Rubio's Fish Tacos at our wedding. Much to my mother's dismay (love you mom). But they were a hit, because who doesn't love fish tacos? I wanted to create a recipe that still had the same great flavor as traditional fish tacos, but that cut back on the calories a bit. Traditional fish tacos often use breaded fish that is deep fried and some type of sour cream based sauce on top. I lightened mine up by ...
Continue Reading
4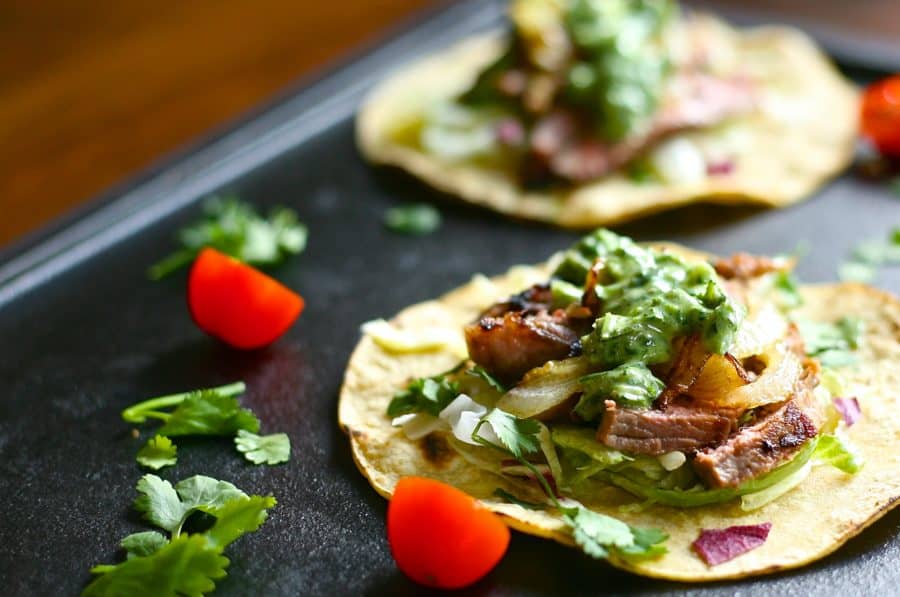 Grilled Steak Tacos with Herb Sauce
Cinco de Mayo is right around the corner and that means tacos! If you are looking to make tacos but still want to maintain your healthy lifestyle, here are a few tips: Omit the Sour Cream and Cheese Consider using Greek Yogurt in place of sour cream (or a mixture of 1/2 sour cream and 1/2 greek yogurt) Cheese tends to be high in fat and sodium, if you add a lot of flavor to the tacos, you won't even miss the cheese Add healthy fats with fresh avocado Grill your ...
Continue Reading
7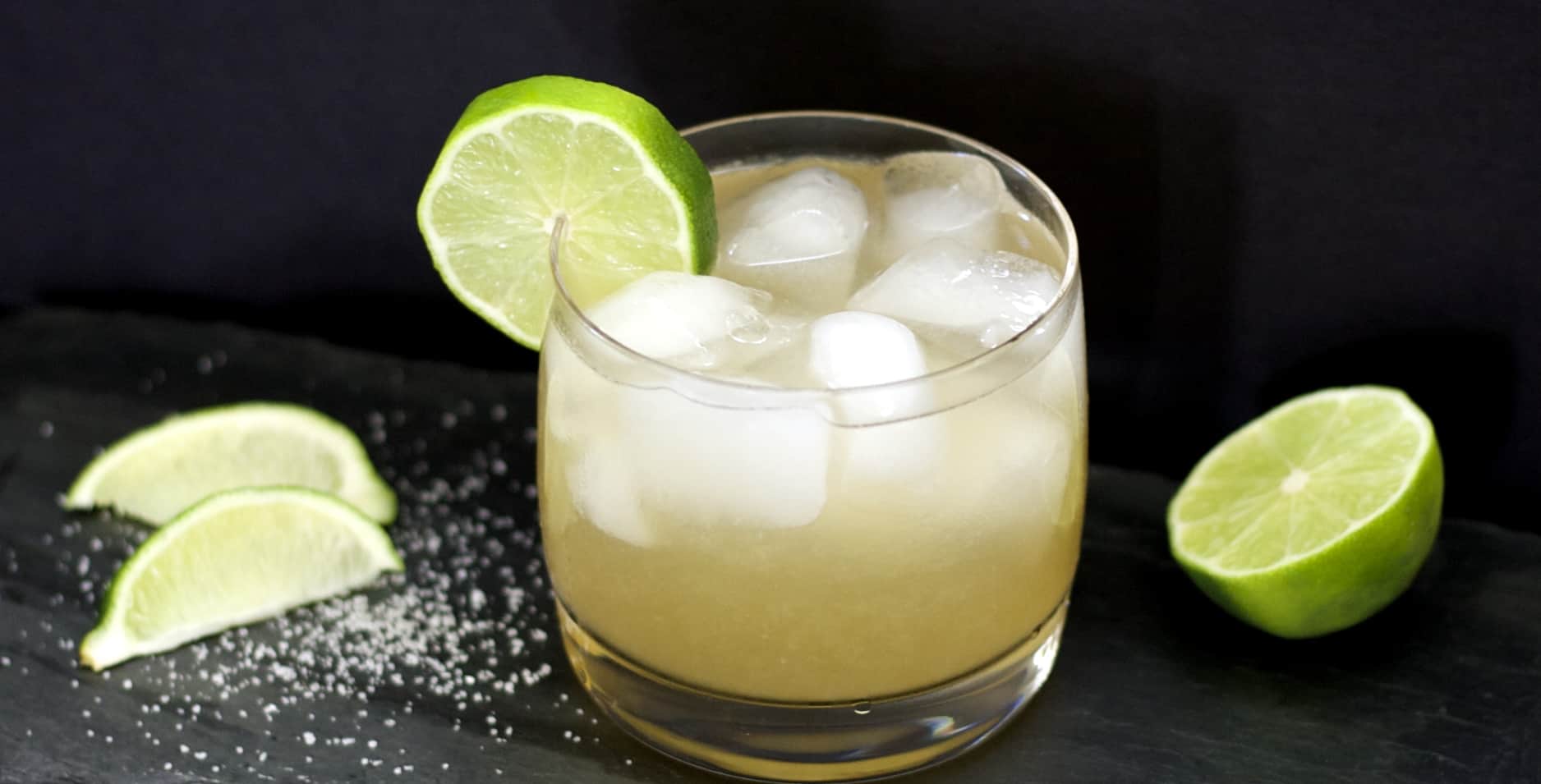 Margarita Monday
Dan makes the best margaritas! He was inspired to perfect his recipe after we stayed at this cute little resort in Baja a few years ago and lived off of $1 margaritas. I'm not exaggerating when I admit that for 2 full days, we drank nothing but margaritas and ate homemade tortillas. It was wonderful! We've always loved margaritas, but sometimes you can only drink one before getting that acidic burning feeling in your throat from too much sweet and sour. Not to mention that many ...
Continue Reading
Garlic Edamame
I often get stuck in a dinner side-dish rut...making the same vegetables and sides, until I get so bored with my meals that a couple hours after eating I end up eating all the cheese and crackers lurking in my house. Can anybody relate? I think a lot of times the side dishes and vegetables we serve are a second hand thought. The star of the meal is usually the main entree and the accompaniments are just steamed vegetables or something you sautéed real quick to fill up your plate. In ...
Continue Reading
Grilling and Chilling
Yesterday was the perfect night at our house...we had a fun filled day outside and then continued on into the evening grilling and eating outside. The weather was perfect (82 degrees) and the kids love eating outside and then running around the backyard while Dan and I just sit back and enjoy the view. We typically only grill our proteins: steak, fish, chicken, etc. But I had some artichokes I had purchased earlier in the week so I wanted to try grilling them. I always see pictures ...
Continue Reading
6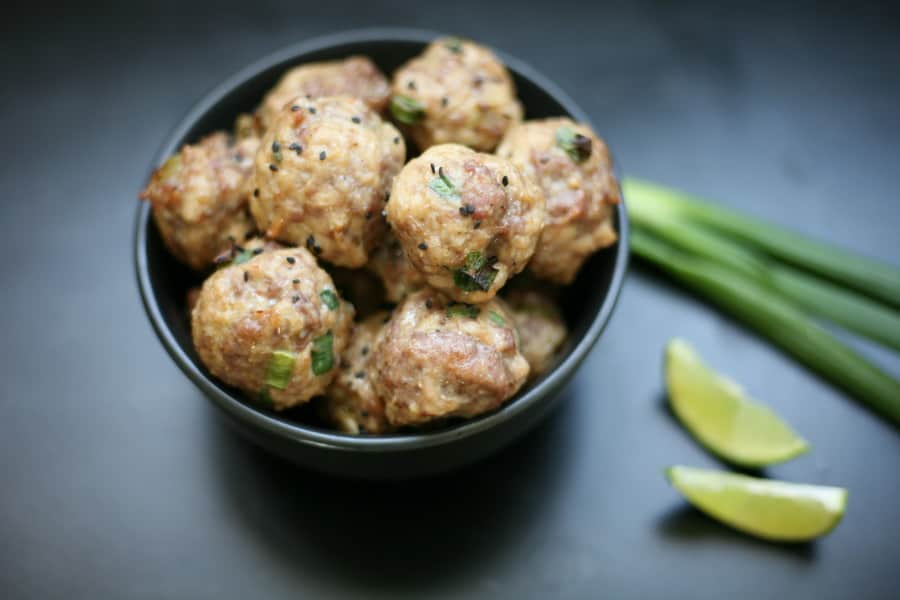 My Favorite Meatballs
When I was doing my 21 day sugar detox, one of the recipes in the meal plan/cookbook was Asian Style Meatballs. I made them the during dinner one night the first week of the detox and both Dan and I devoured the entire pan. They are so good! I've since added them to my dinner rotation and we have them once every couple weeks. They are so easy to make and quick, which makes them a go-to in my household. Anytime I make them, I double the batch so that I can freeze some for future dinners. I ...
Continue Reading
1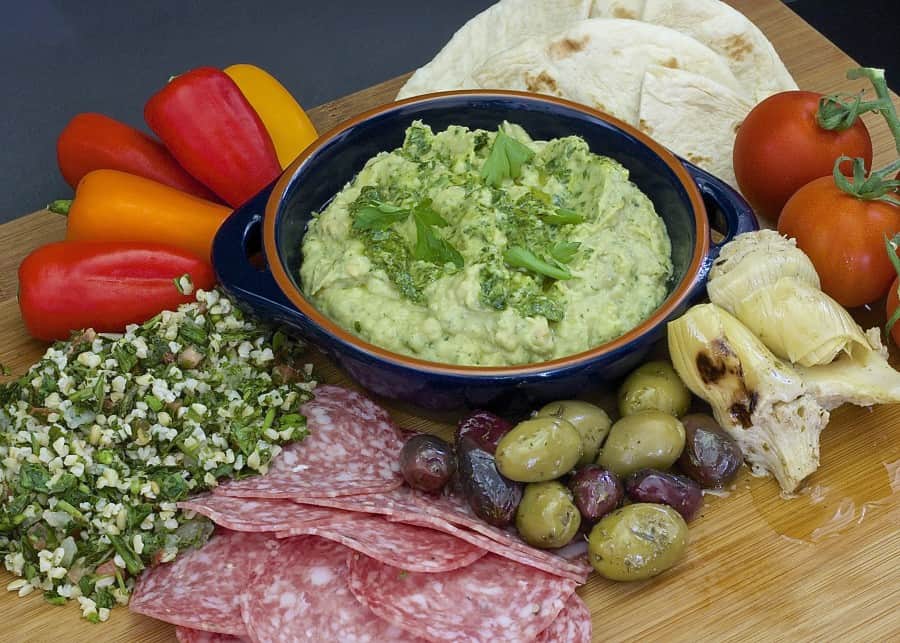 My Favorite Lunch
After joining my family many times for "Cheese and Cracker Night", his opinion was changed and it has since become one of our favorite meals to have together in our house. "Cheese and Crackers" in my family doesn't just mean some sliced cheese served on top of crackers. It's more of a "picnic" inspired meal consisting of salami/charcuterie, fresh bread, assorted cheeses, crackers, fresh fruit such as strawberries and grapes, hummus, olives, etc. It's filling but also light and refresh...
Continue Reading
Spicy Pineapple Salsa
One of the biggest complaints I hear from clients and friends about trying to eat healthier is that it's boring. A lot of the time, I think that people think eating healthy means plain chicken, dried fish, steamed vegetables, and other dishes with zero flavor. While it's true that you have to watch out for sauces when trying to adopt a healthier lifestyle, since they can be full of empty calories and extra fat,  you cannot expect to live off of bland, flavorless chicken, fish or meat. It's ...
Continue Reading
Healthy Snack – Almond Butter Banana Bites
Most of the time, I can satisfy my sweet tooth with a square of really good dark chocolate. But sometimes you just want a little bit more, you know what I mean? Bananas are a great healthy choice, but I get so upset when they turn even the slightest bit brown because I really only like them on the green side. Plus, a banana all by itself doesn't really scream "fulfilling snack" in my opinion. So these bananas are jazzed up with some almond butter ( I just discovered crunchy almond ...
Continue Reading
Healthier Chicken Nuggets
In my opinion, chicken nuggets might be one of the best inventions to parents everywhere. Let's face it, there are days when you just don't have the time to make a "real" dinner, days when you've reached your limit and when your child asks for chicken nuggets, you just don't have any fight left in you to say no. It's on those days when an order of chicken nuggets in the drive thru is a heaven sent solution at meal time. Both of my kids are pretty good eaters, but they love their chicken ...
Continue Reading
4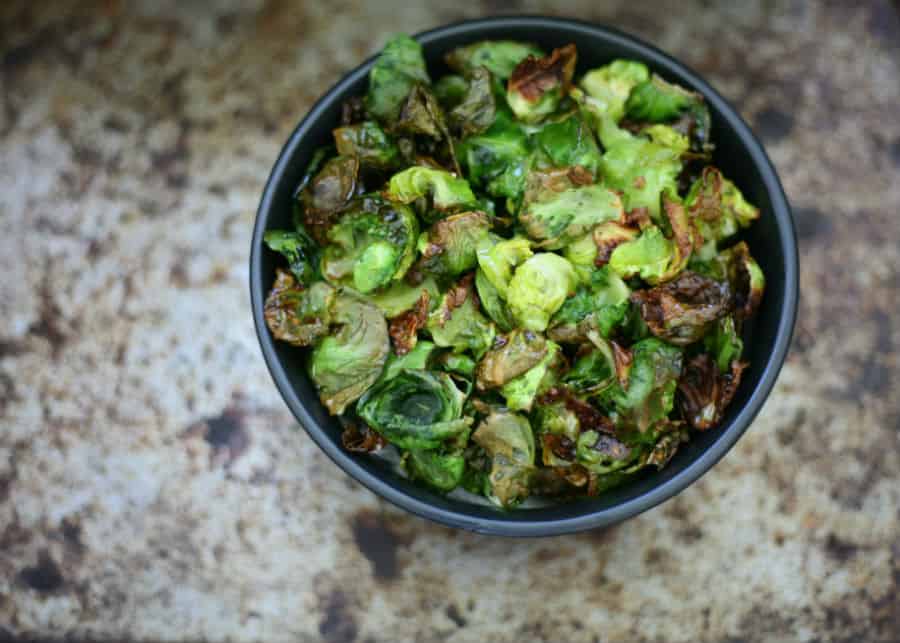 Roasted Brussels Sprout Chips
Brussels Sprouts seem to be all the rage these days...Pinterest is filled with recipes boasting this little cabbage ball roasted, baked, and even served with bacon. I remember as a kid that I HATED when my mom made brussels sprouts. No offense to my lovely mother (who is actually a wonderful cook), but she would just steam them and I couldn't stand them. My sisters, on the other hand, both loved them so we had them quite a bit. These days, I'm all over that lovely little brussels sprout. ...
Continue Reading
3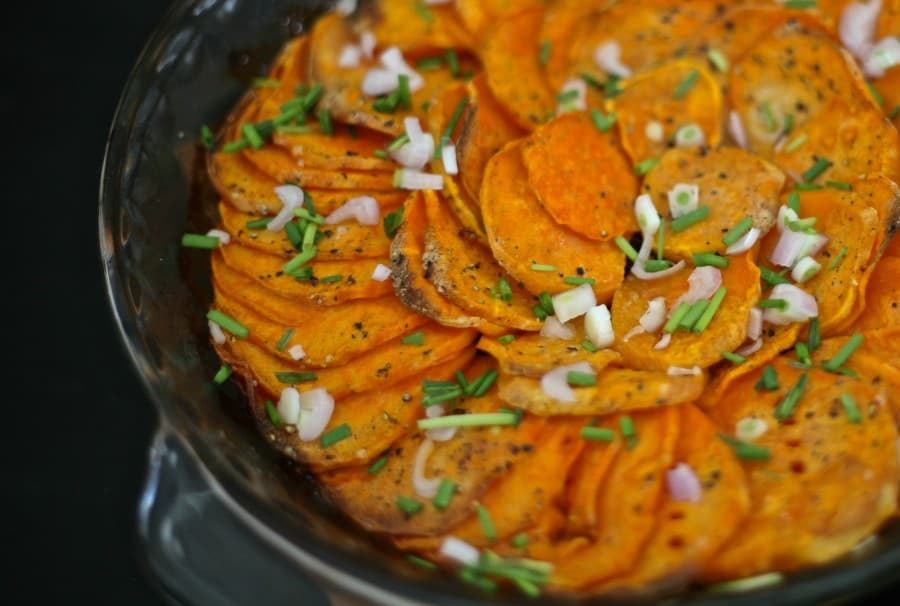 Baked Sweet Potatoes with Garlic Butter
It took we awhile to get on board with "Team Sweet Potato". I always just affiliated them with an old fashioned side dish served at Thanksgiving. Which honestly my family never served at Thanksgiving, so I didn't really have any experience with them. I've prepared them a few different ways now and I am officially a sweet potato girl. They are pretty easy to cook and a pretty inexpensive item to keep stocked in the pantry. Plus they are pretty great nutrition wise! "Slow Burning" Fiber ...
Continue Reading
1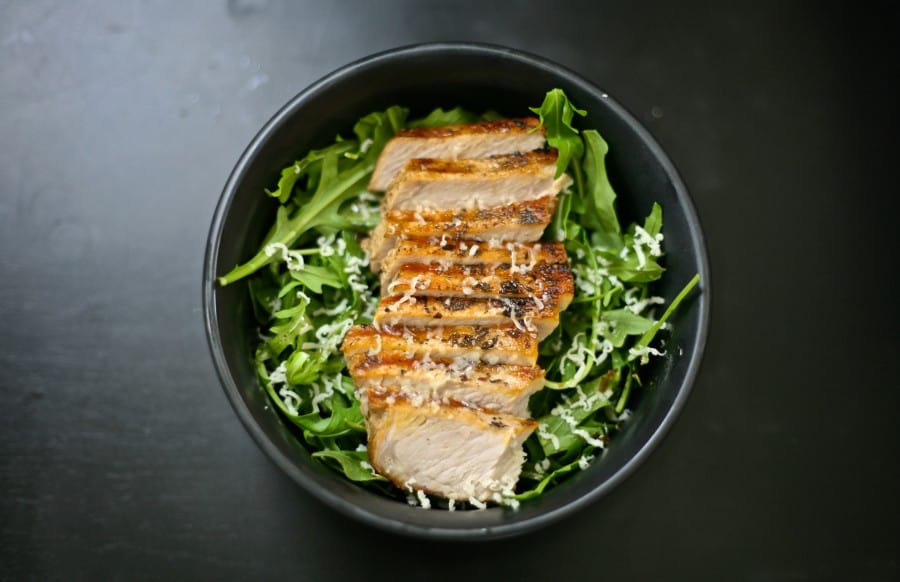 My Love of Leftovers
The idea of leftovers used to make me somewhat queasy, the idea of picked-at food, half eaten, and then stored in a cardboard container to be reheated the next day never sounded appealing. Now that I'm an adult and responsible for our family's grocery budget, I have a new found appreciation of leftovers. I should explain though that just like my taste in music has evolved as I've grown up (although I still love me some N'Sync), my use of the word "leftovers" has also evolved. I still ...
Continue Reading
Healthy Habanero Chicken Wings – Get Ready for Game Day
Dan (the hubs) is a chicken wing snob connoisseur...he's eaten chicken wings all over the world and 80% of the time that we go out to eat, he orders wings. He loves them, plain and simple. But he's very particular about them, they have to be spicy but they can't just be covered in spicy sauce. That being said, I usually don't cook wings because he never likes them. However, since Super Bowl Sunday hits 2 days before the end of our 21 day sugar detox, I needed to make a snack that we ...
Continue Reading