Coconut Caramel Affogado
Affogado is a coffee based dessert that is easy to make and delicious to eat! Perfect for a simple dessert at home or the perfect finale for your next dinner party.
One of my favorite parts about having people over for dinner is creating a fun menu that definitely includes dessert. Growing up, we always had dessert when my parents had people over. That tradition still rings true for me, even though my husband is anti-sweets. The saying opposite attracts is true, at least in our household.
However, I often found that I'd prepare too much food and that no one had room left for dessert after the meal. To matters even worse, I'd be stuck with an entire leftover cake or a pan full of brownies. Never a good idea to have that much chocolate on hand in a household where I'm the only one that likes sweets. I'd either end up eating most of it myself or throwing it away.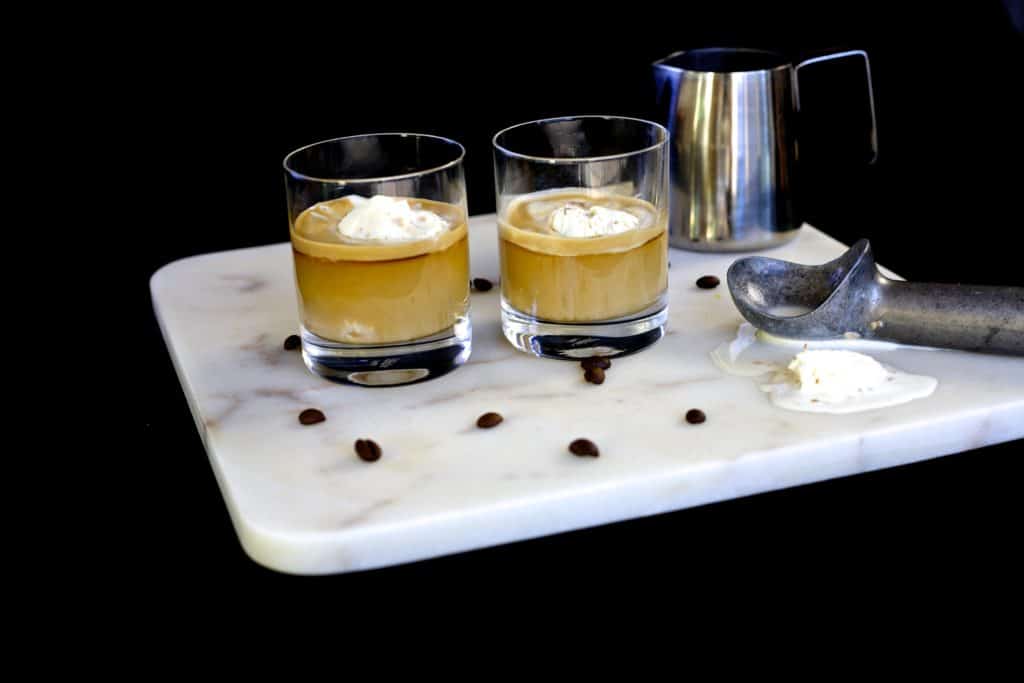 To remedy this issue I've tried to focus on not going overboard with appetizers and food. Instead, I like to have one lighter appetizer followed by a delicious meal that doesn't include too many sides or heavy recipes. These Easy Cucumber Bites are a popular appetizer that I've made for many get togethers.  They are hearty enough to be served as the only appetizer but still light enough that people aren't stuffed by the time the main course is served.
I've also recently discovered the perfect dessert to complete any meal. The delicious and simple Affogado. In Italian, affogado means drowned. This dessert is simply ice cream "drowned" in espresso. Doesn't that sound amazing? Anything defined as "drowned" in a dessert category is a win-win in my opinion.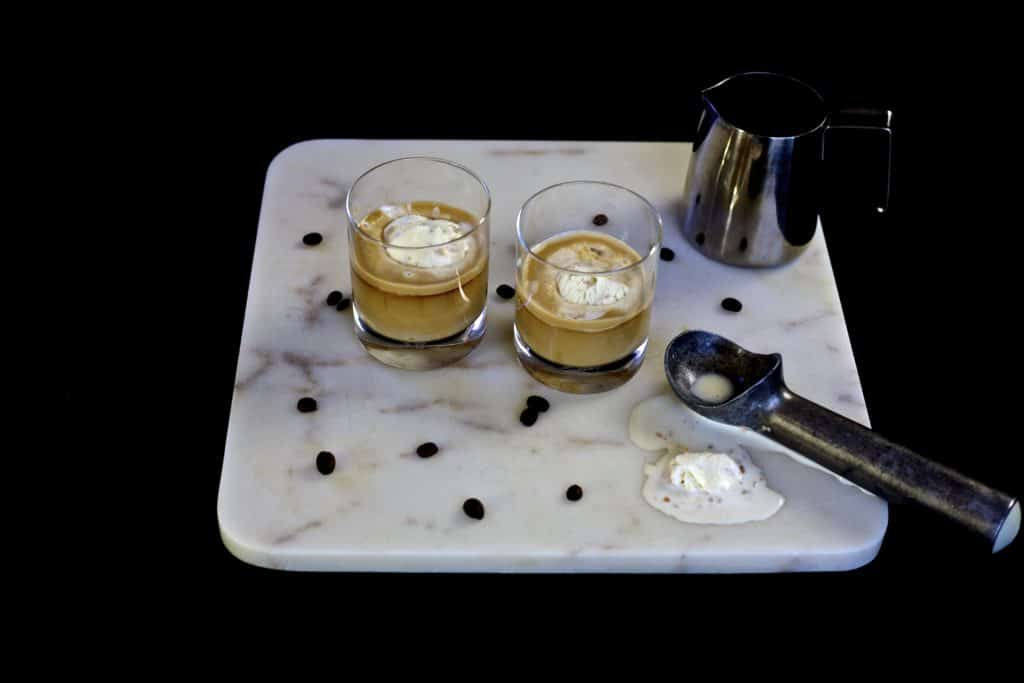 For a recent dinner with friends, I served this Coconut Caramel Affogado. Everyone was blown away! It honestly was the best way to end the meal. Creamy Coconut Caramel Ice Cream drowned in bold, rich espresso. The warm espresso slightly melts the ice cream and creates such a delicious creamy espresso that even people that don't like coffee much will enjoy this dessert.
I used about two scoops of ice cream per person and it was the perfect amount. Since the ice cream is pretty sweet, I balanced it out by using Gourmesso Messico Blend Forte espresso. It's an espresso with an intensity of 9 out of 10, which pairs well with this dessert. The bold espresso balances out with the sweet and creamy ice cream.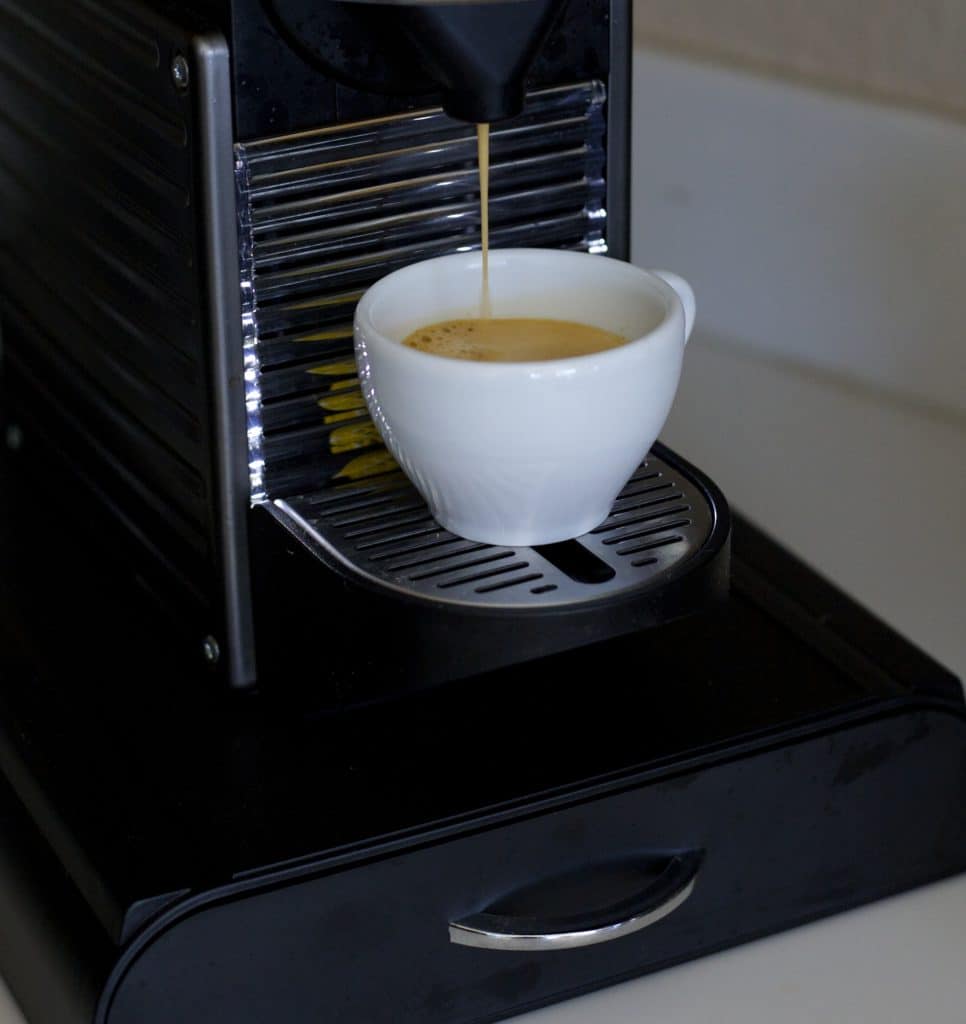 The best part is that the Gouremesso coffee capsules are compatible with my Nespresso machine but they cost much less. Definitely a big factor in our single income household. Another benefit is you don't have leftover baked goods sitting on the counter calling your name. Tell me I'm not the only one that just grabs a fork to finish off leftover cake?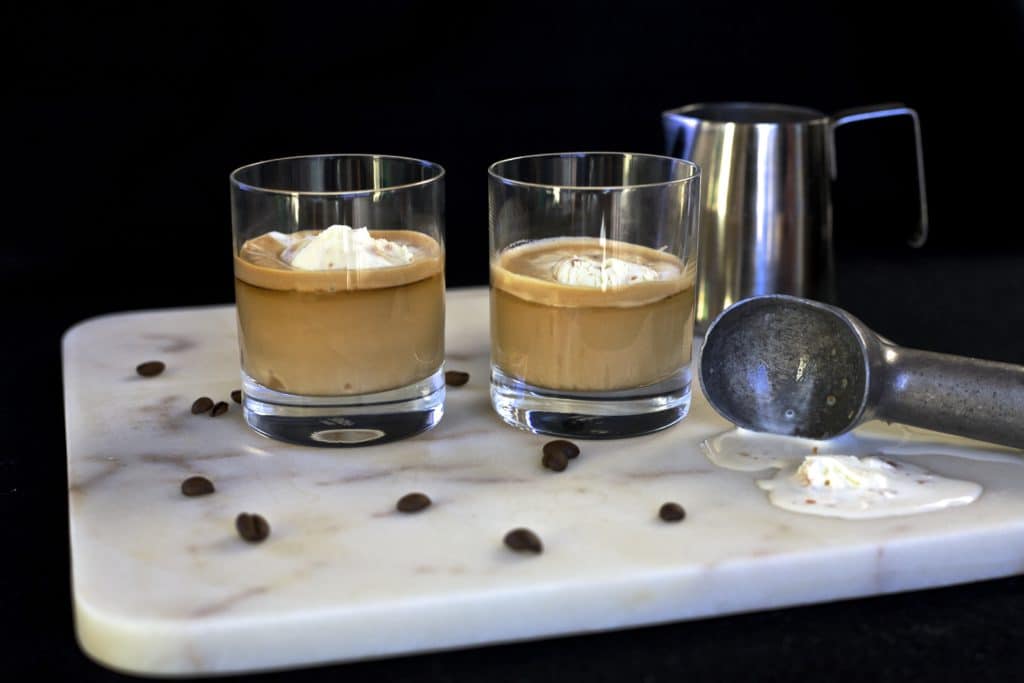 There are so many variations of Affogado since you can use different flavors of ice cream or gelato and top with fun additions like chocolate shavings or caramel sauce. It would also be great to drizzle with these Homemade Flavored Coffee Syrups.  A fun idea would be to have a few different flavor of ice cream available and ask your guests to customize their own dessert. Endless possibilities.

Coconut Caramel Affogado
Author:
Brynn at The Domestic Dietitian
The perfect simple and elegant dessert!
Ingredients
1-2 scoops ice cream
1 shot brewed espresso
Optional: shaved chocolate, chocolate or caramel sauce
Instructions
Place 1-2 scoops ice cream in a shallow glass
Pour brewed espresso over ice cream
Serve immediately with a spoon
Do you have a favorite coffee based dessert recipe?
1 Comment
Dan

March 16, 2017 (10:43 pm)

First. This black backdrop looks awesome. Great shots. Second. I love coffee, stoked about some new pixie options. Third, I think this little desert needs to catch on more here in the states!