Grilled Steak & Pineapple Skewers – Healthy Grilling
This Grilled Steak & Pineapple Skewers recipe was originally posted last summer, but recently won a Healthy Griller Award from Wayfair! It was featured in this fantastic Healthy Grilling article, featuring some delicious recipes and healthy grilling tips from fellow food bloggers.
Along with focusing meals more on vegetables and starting the Meatless Monday movement at our house, I've been trying to add more fruit to our actual meals.

We eat fruit (the kids especially), yet it's usually just as a solo snack, or a piece of fruit with breakfast. I often forget that fruit really pairs so well with many foods and adds amazing flavor to dishes. Not to mention the health benefits of many fruits. Each different color of fruits offer so many different vitamins and minerals that our body needs to function at it's best. Eat the Rainbow as my friend Jeannette always says!
We've starting adding fruits to salads, like this Cantaloupe Panzanella Salad that has been on repeat up in here the past month, but I wanted to find some dinner recipes that I could add fruit to.
It wasn't until we joined friends at the lake that I was reminded how good pineapple and steak go together. Our friend's dad made delicious steak skewers that had pineapple on them and they were so good (Hi Papa Dave). The grilled pineapple gives off such a great flavor without being too sweet, and pairs nicely with the steak and veggies on the skewers. I knew I had to recreate them at home.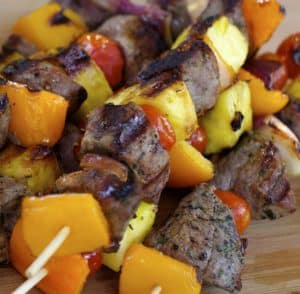 Just one serving of pineapple contains 50% of the recommended daily amount of Vitamin C! It's also high in manganese, the mineral that helps form strong bones and connective tissue. One cup of pineapple only contains 82 calories, making it a great addition to recipes.
I made a simple chimichurri marinade that I poured over the skewers about an hour before we were ready to grill. The fresh herbs compliment the pineapple and steak really well. The red pepper provides a nice little kick without being too overpowering. I served some of the chimichurri sauce on the size, but it wasn't necessary. The skewers had so much flavor on their own.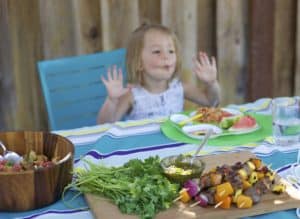 Due to the weather being so warm, we took our meal outside. Served alongside an arugula salad, these skewers made the perfect summer night dish! Filling and hearty while still being light and full of flavor thanks to the pineapple.

Grilled Steak Pineapple Skewers
Author:
The Domestic Dietitian
Grilled Steak and Pineapple Skewers - a healthy, filling and flavorful dish!
Ingredients
1 pound steak
¼ cup pineapple, cut into cubes
½ cup cherry tomatoes
¼ red onion, cut into thick cubes
1 yellow bell pepper, cut into cubes
1 cup italian parsley, rough chop
3 cloves garlic, smashed
½ cup cilantro, rough chop
½ cup olive oil.
2 Tbsp red wine vinegar
1 teaspoon salt
¼ teaspoon pepper
¼ teaspoon red pepper flakes.
Instructions
Using wooden skewers, place the steak, tomatoes, red onion, pineapple and bell pepper on each skewer.
Place the olive oil, parsley, cilantro, garlic,vinegar, salt, pepper and red pepper flakes in a food processor and blend together.
Pour half of the chimichurri sauce over the skewers and let marinade for 1 hour
Grill the skewers for about 10 minutes on each side, or unit the steak is cooked thru
Serve with the remaining chimichurri sauce on the side
Feel free to Pin for later!

No Comments