Pasta with Shrimp and Sautéed Vegetables
Disclosure: I was not paid nor received any free product for this post. All opinions expressed are completely my own. However, I am entering into a contest with this recipe from Food & Nutrition Magazine Test Kitchen program.
Have you ever heard of pasta that is ready in less than 2 minutes?
How about an entire pasta dish that is delicious and is ready in less than 7 minutes?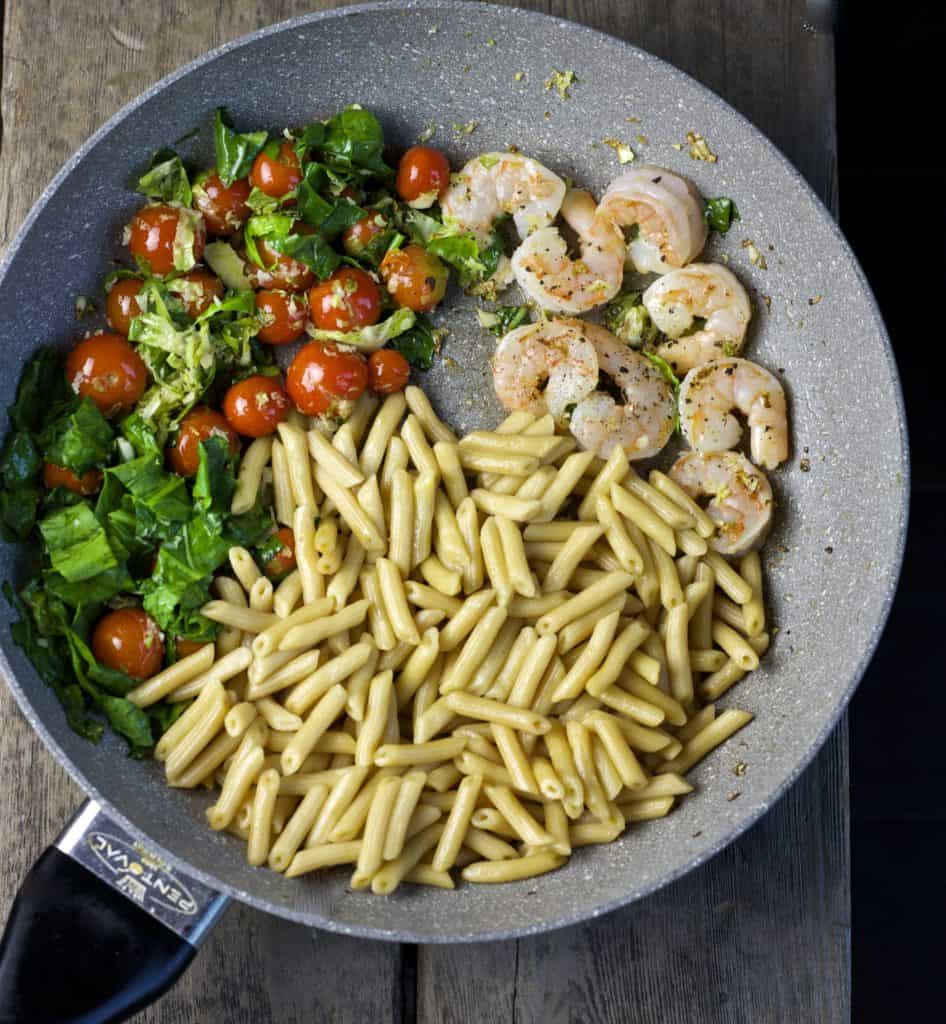 No? Me neither until I learned about Barilla Ready Pasta. It's a new line of pasta from Barilla that is already cooked but can be found on the shelf near the dry pasta in your local supermarket. It's made with 3 simple ingredients and is ready in a mere 60 seconds.
I used the penne pasta from their Ready Pasta line to create this Pasta with Shrimp and Sautéed Vegetables. From start to finish, this dish takes less than 7 minutes to make.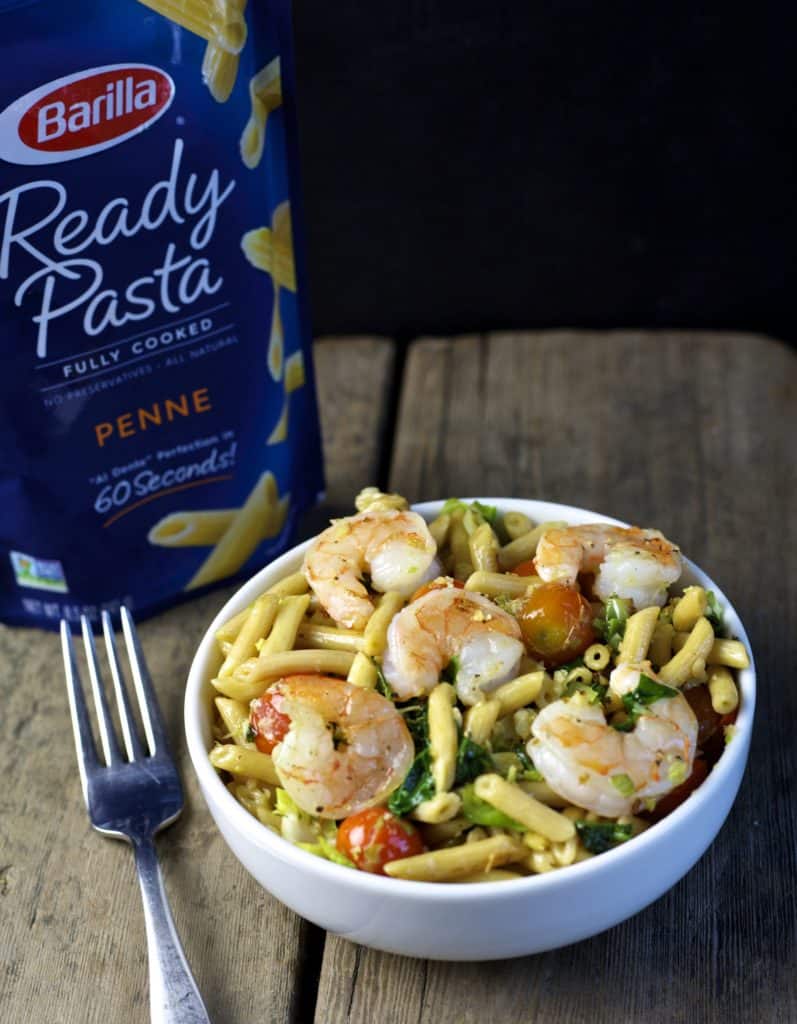 It's adapted from this Food & Nutrition Test Kitchen's Pasta with Shrimp & Green Beans recipe. However, I swapped spinach and brussels sprouts for the green beans because 1) I don't really care for green beans and 2) it's what I had on hand.
Only 7 minutes stands between you and a hearty bowl of pasta topped with juicy sautéed shrimp, blistered cherry tomatoes, hearty spinach and sautéed brussels sprouts. All tossed with olive oil, garlic, and a sprinkling of freshly grated parmesan cheese.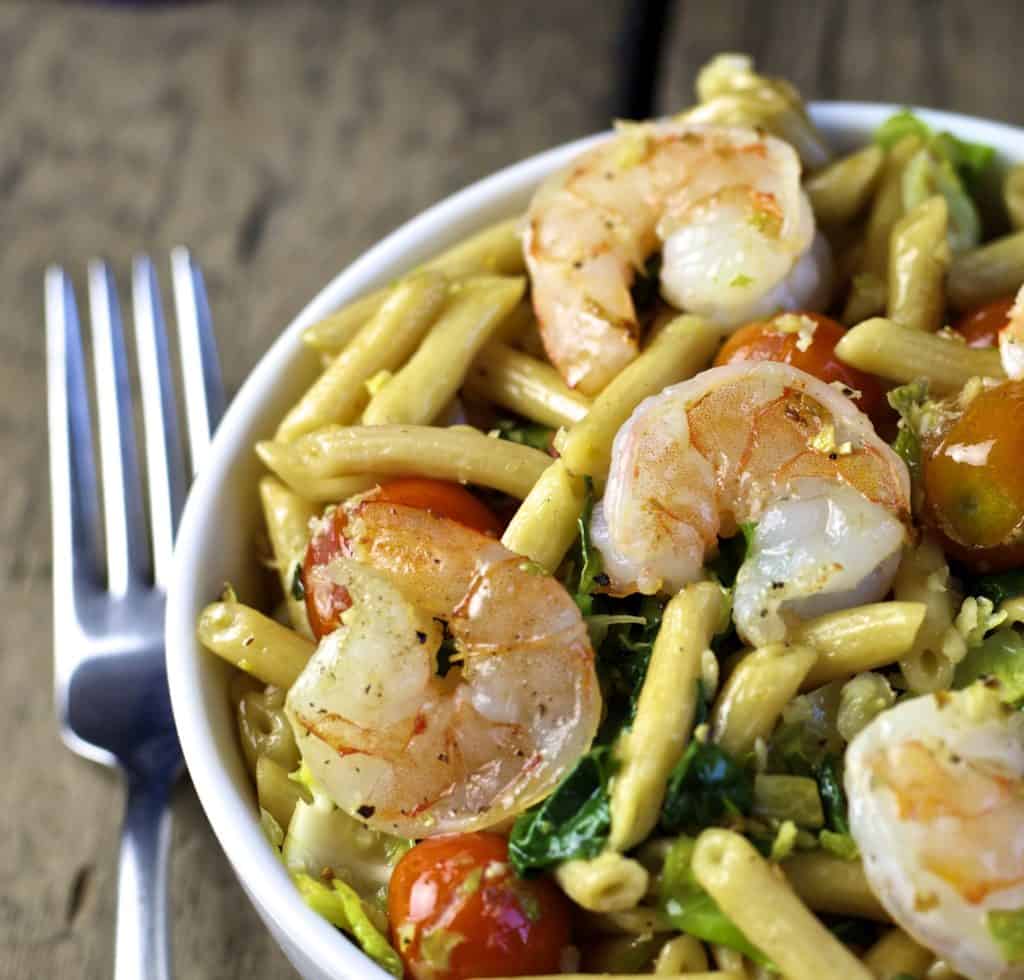 It's heavenly.
But wait, there's even more great news – it's all made in a single pan.
Dinner in less than 7 minutes and only 1 pan to clean…
You are welcome. It has seriously become one of my weekly go-to favorites and a staple pantry item.

Pasta with Shrimp and Sautéed Vegetables
Author:
Brynn at The Domestic Dietitian
Prep time:
Cook time:
Total time:
A delicious pasta dish that is ready in under 7 minutes and only requires 1 pan.
Ingredients
1 pouch Barilla Ready Pasta
1 tbsp olive oil
1 clove garlic, minced
8-10 shrimp, peeled
2 handfuls spinach
½ cup shaved brussels sprouts
1 cup cherry tomatoes
freshly grated parmesan cheese (for garnish)
Instructions
Cook pasta according to package instructions in microwave
Heat oil in large skillet over medium heat
Add minced garlic and cook until fragrant, about 30 seconds
Add brussels sprouts and tomatoes
Cook for 2 minutes and then add shrimp
Cook until pink (about 1-2 min each side)
Add spinach and give a quick stir
Stir in pasta and remove from heat
Portion into 2 bowls and top with freshly grated parmesan if desired
If you are looking for more great pasta recipes, these are two of my favorites!
SaveSave
SaveSave
You May Also Like
No Comments