Roasted Brussels Sprout Chips
Brussels Sprouts seem to be all the rage these days…Pinterest is filled with recipes boasting this little cabbage ball roasted, baked, and even served with bacon.
I remember as a kid that I HATED when my mom made brussels sprouts. No offense to my lovely mother (who is actually a wonderful cook), but she would just steam them and I couldn't stand them. My sisters, on the other hand, both loved them so we had them quite a bit.
These days, I'm all over that lovely little brussels sprout. My go-to cooking method had been lightly sautéing them with olive oil, salt, pepper until I discovered my newest sprout obsession: Roasted Brussels Sprout Chips.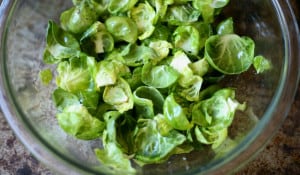 Basically, you peel the leaves off these little green beauties, dress them lightly with olive oil, salt and pepper and then roast them until they are crunchy and chip-like. But my favorite part is lightly brushing them after they are perfectly roasted with olive oil, garlic and red pepper flakes. You guys they are so good! Roasting them makes them so crunchy and the red pepper and garlic gives them a little kick.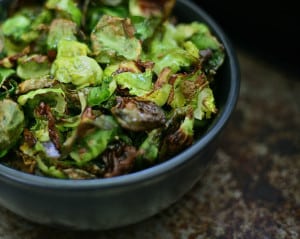 They are the perfect snack…crunchy, lightly salty, and much healthier than many options.
Are you a Brussels Sprout fan?
Ingredients
1 package Brussels Sprouts (16 oz)
2-3 Tbsp Olive Oil
Salt & Pepper
1 Garlic Clove, minced
Red Pepper Flakes
Method
Heat oven to 400 degrees
Cut bottom off each Brussels Sprout and remove leaves, add leaves to mixing bowl
Add 1 Tbsp olive oil, sprinkle salt and sprinkle pepper to bowl of leaves
Mix leaves together so that all are lightly coated with olive oil and seasoning
Lay leaves on baking pan lined with foil in single layer
Cook on top rack of oven for ~8 minutes, until brown and crispy
While sprouts are cooking, add 2 Tbsp olive oil to small saucepan over med-low heat
Add minced garlic and red pepper flakes and lightly sauté, until garlic is fragrant (about 3 minutes)
Remove Brussels Sprouts from oven and lightly dress with olive oil and garlic mixture
Serve warm or room temperature
You May Also Like
This Barefoot and Boozy Cocktail recipe is the perfect blend of coconut and pineapple. Light and refreshing and full of island flavors.
1 Comment
Dan

March 18, 2016 (8:06 am)

What's weird is how much kids hate them but grown ups love them. Great recipe. These were good.