6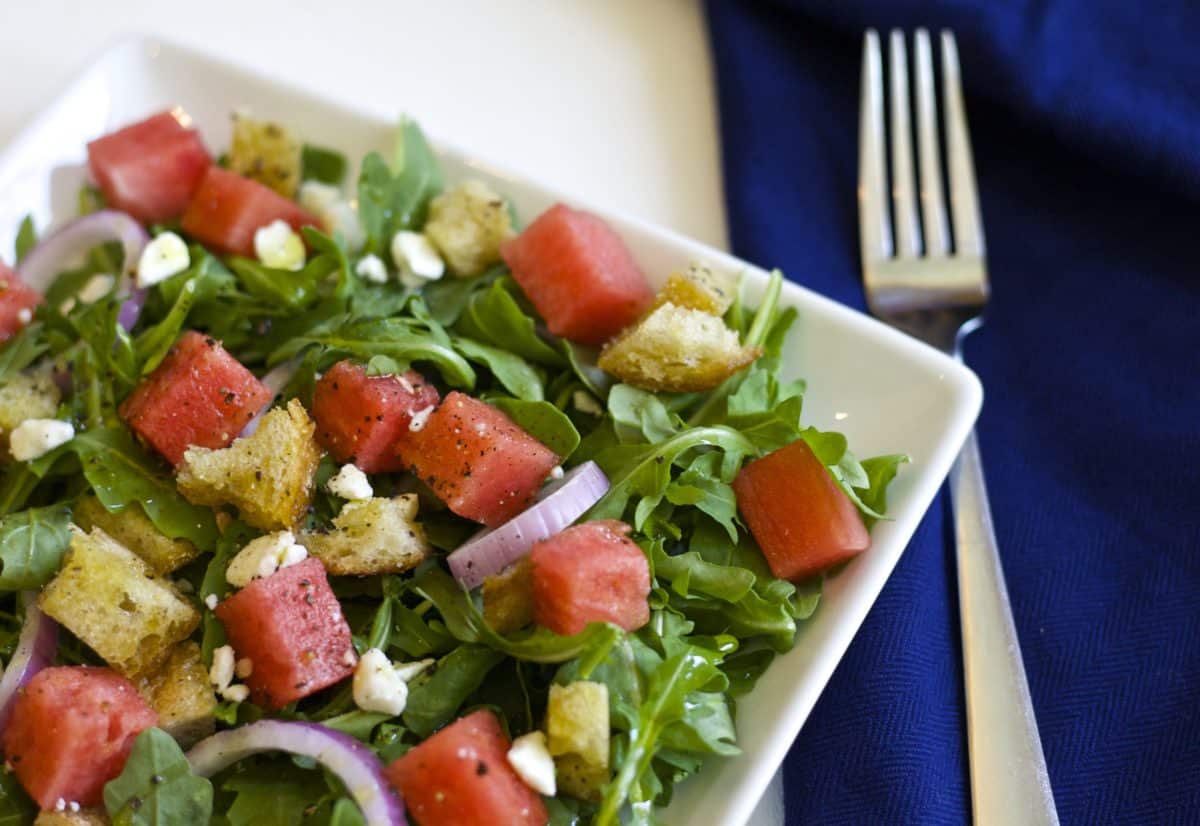 Watermelon Panzanella Salad Recipe
Watermelon Panzanella Salad is the perfect refreshing summer recipe. Crisp arugula combined with juicy watermelon and toasted bread for the ultimate salad. As the weather gets warmer, the last thing I want to do when making dinner is turn on the oven. Ya feel me? Instead, I find myself gravitating towards grilling outside or making refreshing salads in the dog days of summer. This Watermelon Panzanella Salad recipe is one of my favorite to make because - It's so easy, ready in ...
Continue Reading
2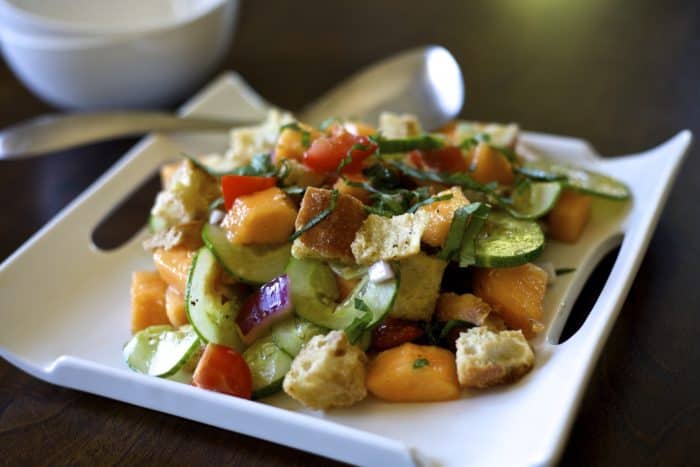 Cantaloupe Panzanella Salad
I don't know if I've been living under a rock lately but I just recently discovered Panzanella Salad! I've been experimenting different recipes but this Cantaloupe Panzanella has been on repeat lately. I've been trying to incorporate more fresh fruit into the dishes we enjoy at home. We eat fruit, but it's usually just as a snack or with breakfast. I am trying to jazz it up a bit and really make some fruit based dishes and meals. This Cantaloupe Panzanella Salad does just that by ...
Continue Reading
15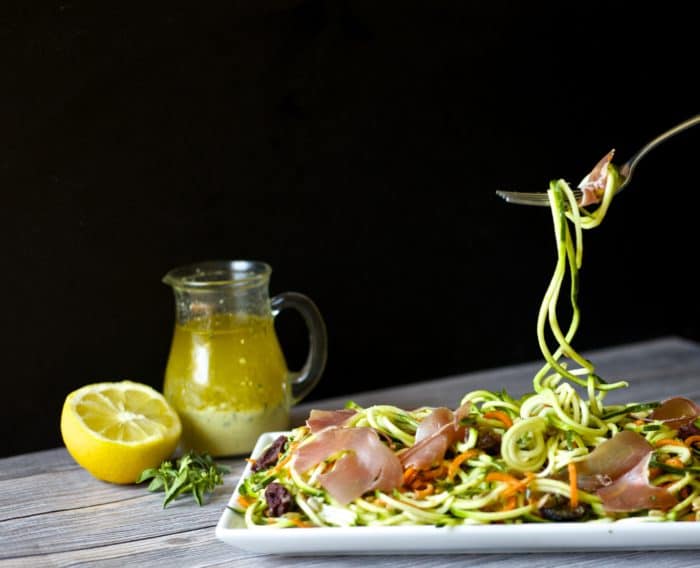 Zucchini Spiralized Salad – Recipe Redux
I love the idea of enjoying light and refreshing "summer salads". In my mind, I envision a clean, white plate filled with grilled proteins, zesty vinaigrette, and lots of fresh and vibrant seasonal produce. These daydreams typical include the meal being served poolside, while I sip a refreshing cocktail and work on my tan. So maybe I can't quite make the poolside cocktail part an everyday reality, but summer salads are my jam. However, many pasta based salads can be quite filling and not ...
Continue Reading
8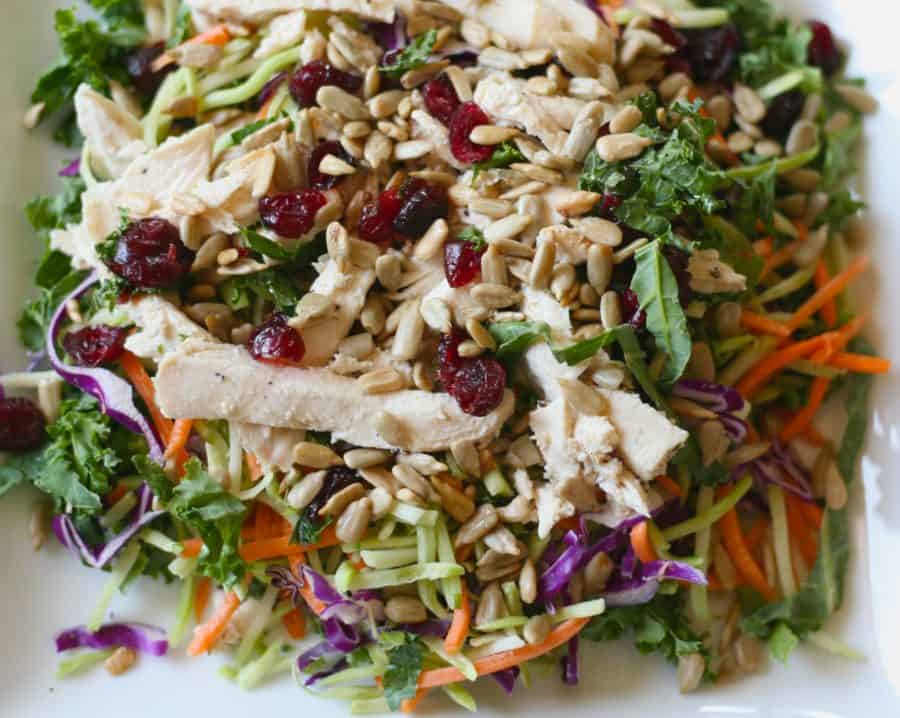 Giving Kale the Old College Try
I'm a big believer in trying foods more than once, you know the old adage "everyone deserves a second chance". Well I feel like I've given Kale a second, third, fourth, and fifth chance and I feel like we should just part as friends and call it a day. It's important to me to be as open and honest as possible on this blog. One reason being that I think that people constantly think that Dietitians eat only poached chicken and steamed vegetables all. the. time. I'm being a bit sarcastic there ...
Continue Reading
0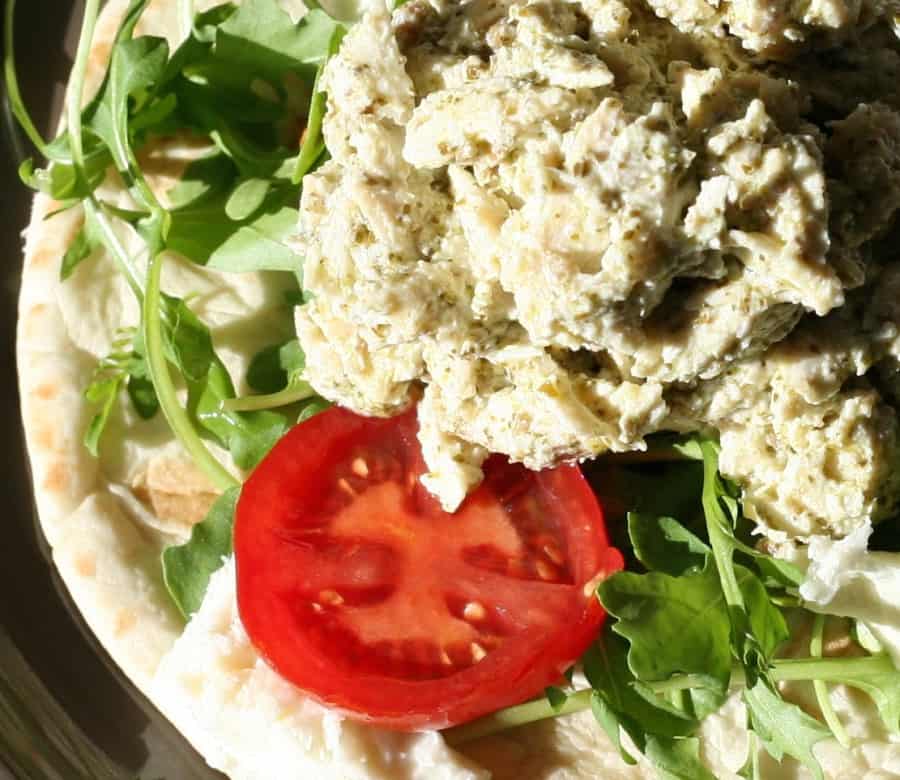 Greek Pesto Chicken Flatbread
This lunch is so simple but soooo good!!! I made it last week (and posted on Instagram) and I honestly only had about 10 minutes to make lunch but was craving something more than lunch meat and cheese (a regular staple around here lately). A quick trip the grocery store, a few minutes at home mixing ingredients and presto...lunch was made. I took a couple shortcuts to save even more time...I purchased pre-made pesto and used rotisserie chicken breast (rather than cooking my own chicken)...
Continue Reading