Making Healthy Smoothies 101
Sharing tips on making healthy smoothies at home and what to watch out for to ensure you aren't creating a sugar loaded, high carbohydrate shake.
When I was in college, I worked at a pretty nice fitness club. When I worked in the club's cafe,  I remember making smoothie after smoothie for sweaty members that had just finished a class or session with their personal trainer.
At the time, I was 19, and couldn't understand the allure of protein shakes or smoothies in general. They were chalky  and I'd much rather just have actual food than a drink for my meal.
I have slowly gotten on the protein smoothie bandwagon. It wasn't until I landed my first real job out of college and had to be on the road by 6am that I understood the allure of being able to throw ingredients in a blender and take it on the road.
However, there are some "rules" that I try to follow when making protein smoothies, especially if they are going to be a meal replacement. Often times if you don't know what to look out for, a smoothie could have a ton of sugar or a lot of carbohydrates, which is especially something to watch out for if you are diabetic.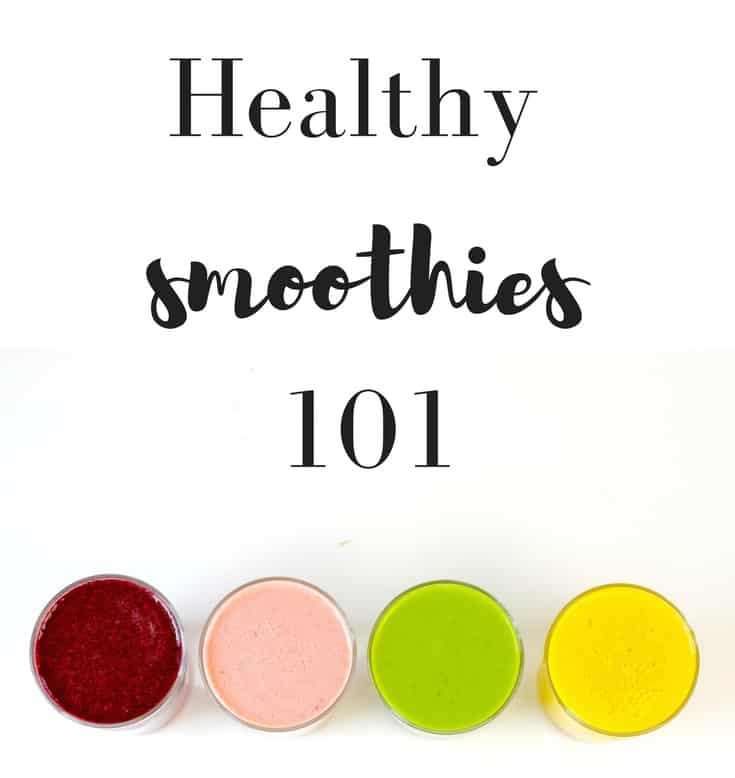 1. Use Fruit Instead of Juice
Just 1/2 cup of fruit juice can add a lot of extra sugar and calories. Using whole fruits can drastically cut back the amount of sugar you are adding to your blended beverage, plus it also provides some extra dietary fiber. Some great choices include berries (even better if frozen because then you get don't have to add ice), mango, pineapple, banana or oranges.
Adding fresh (or frozen) fruit also adds a natural sweetness to your smoothie, thereby eliminating the need for additional sweeteners such as sugar, honey or agave.
I typically use 1/2 cup fruit + 1/2 frozen banana in my smoothies.
2. Choose Your Protein
If you are using your smoothie as a meal replacement or post workout snack, throw some protein in the mix to help build those muscles and provide a balanced meal. Some great options include protein powder, tofu, low fat greek yogurt, and cottage cheese.
Protein powders are not all created equal, so be sure you do some research to find out which one is right for you. This article on Choosing the Right Protein Powder goes into great detail on the types available on the market.
Yon could also consider making your own protein powder at home, much more economical if you are looking to save some money. This is a great Protein Powder Recipe from Teaspoon of Spice. 
3. Add You Liquids
To be honest I simply use water in all my smoothies. I'm not a huge fan of milk and I've found that simply using ~1 cup of water per protein smoothie creates a great consistency and delicious flavor. It also helps keep the calorie level low. Coconut water works well too.
Other options include milk, almond milk, soy milk and coconut milk. Be sure to choose the unsweetened option if using almond/soy/coconut milk. Diabetics should also be sure to count the milk as a carbohydrate source.
A great tip I've learned: use 1/2 frozen banana and it gives your smoothies a creamy texture!
4. Throw in Some Veggies
I'm a firm believer that you can never eat too many veggies! Smoothies are a great way to sneak in a little extra greens. Just a handful of chopped kale or spinach gives your smoothie a little nutrient boost and you don't even taste it. I promise!
This Strawberry Banana Kale Smoothie from The Fitchen is a perfect example! It contains kale but you don't even taste it! Instead, it's a purely delicious blend of strawberry and bananas.
5. Watch Our for Extras
Peanut Butter/Nut Butters and Avocado can add great flavor and texture to smoothies. The only downside is they can pack a lot of calories! Just 1 tbsp of nut butter can add an extra 100 calories! Keep it in mind as you are adding any additional health fats to your smoothies.
Time Saving Tip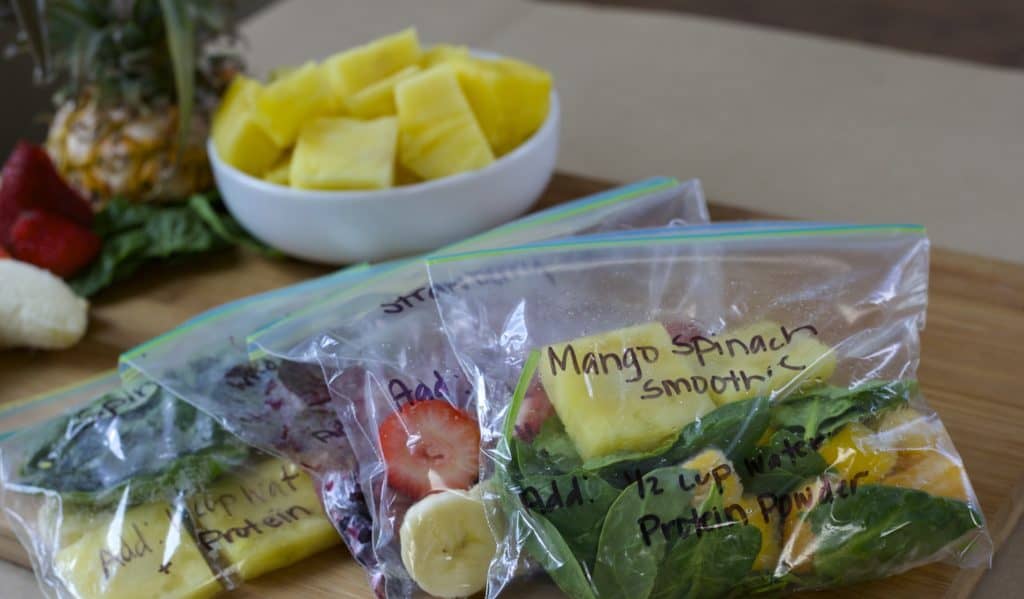 Mornings can be hectic so to save time I make smoothie freezer bags.
I simply place my fruit, veggies and frozen banana in a sealable, plastic bag. I write on the front of the bag any additional ingredients I need to add to the blender, like water or protein powder. Then I place it in the freezer.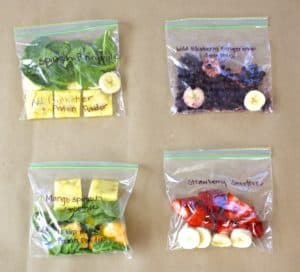 When I'm ready to make my smoothie, I just pick a bag out of the freezer, throw in the blender, add my liquid and protein, and blend away!
 Looking for some smoothie ideas….
1 Comment
Dan

May 19, 2017 (5:04 pm)

So much produce normally gets thrown out. Good call on the save. Especially for. Post workout shake