Kid Friendly Lunches for Summer
A collection of kid friendly lunches that are perfect for those summer months when the kids are home and always hungry.
So now that we've almost hit mid-July, I am completely out of ideas on what to serve my kids for lunch.
I was laughing with a friend the other day because we bonded because our biggest issue with the kids being home all day, every day during summer break is feeding them 3 meals a day.
You might be laughing or even rolling your eyes, but it's so true. Feeding kids (especially fickle little toddlers) 3 solid meals, every single day without loosing your mind is one of my biggest challenges as a stay at home mom.
Breakfast is pretty simple at my house – toast w/ fruit and yogurt or some sort of waffle/pancake. I meal plan our dinners, so those are planned a week at a time. Lunch, however, is typically where I just throw together random items in the fridge.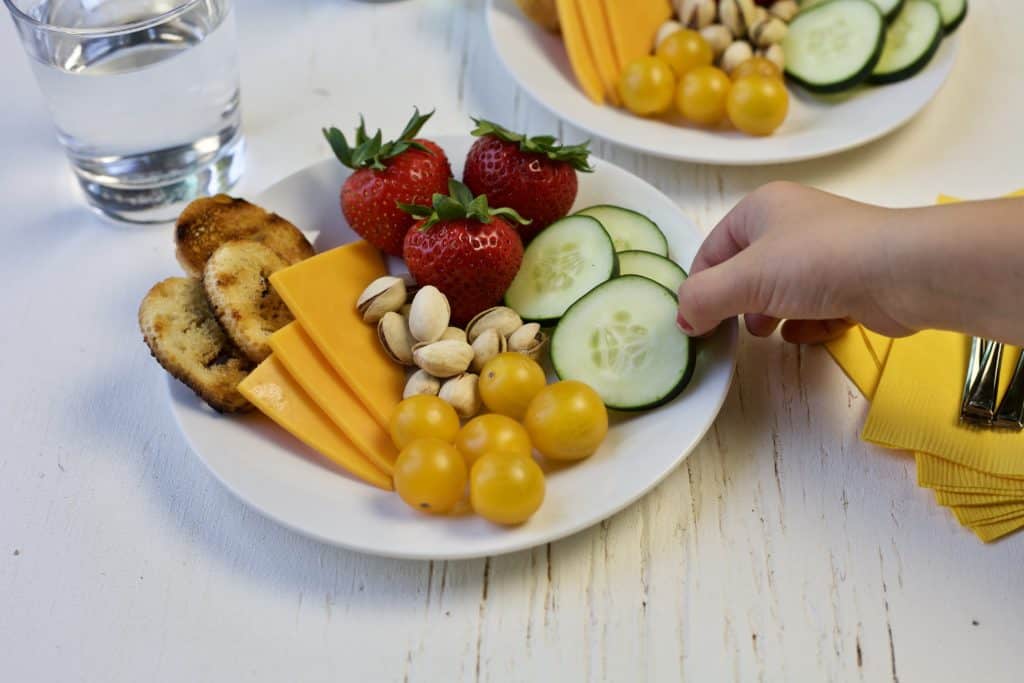 A few weeks ago, I shared one of my newest lunch saviors…Kid Friendly Mini Cheese Plates. They are still going strong at our house, but I don't want to overplay my hand so I went looking for more kid friendly lunch ideas for summer.
I'm so excited to test out some of these recipes on my kids. I'm using this summer to get them to try new things and these recipes sound delicious and creative!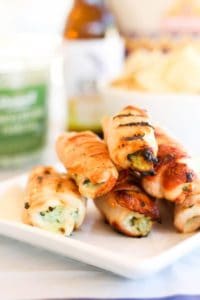 Artichoke Dip Stuffed Turkey Roll Ups – Hungry Hobby
How amazing do these melty gooey turkey roll ups look? Perfect lunch idea that can be prepped in advance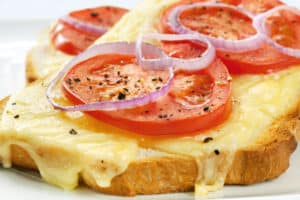 Tomato Cheese Melts – Sarah Remmer
Melted cheese served on toast with sliced tomato…we are all in!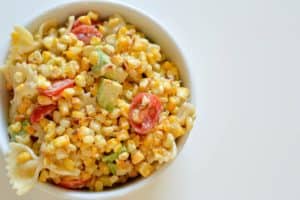 Grilled Corn Pasta Salad – A Pinch of Grace
My kids love corn and pasta salad, so I feel like this will be a win-win. Plus you really can't beat the price of summer corn.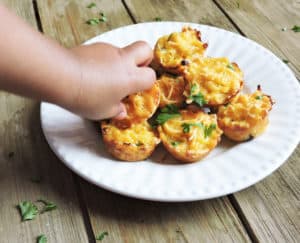 Cheesy Broccoli Mac & Cheese Bites – Beautiful Eats and Things
In my 5 years so far as a parent, I've learned that you really can't go wrong with anything cheesy and bite size. These would definitely be a hit at my house!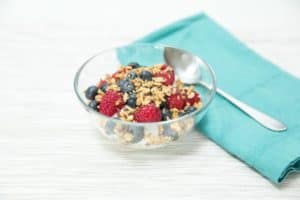 Greek Yogurt Parfaits – Sarah Remmer
Protein rich Greek Yogurt topped with crunchy granola, heart healthy nuts and fresh fruit…now that's a well balanced meal! Plus it's a great meal for those dog days of summer when it's just too hot to eat.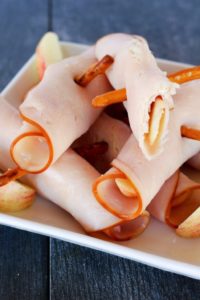 Turkey Roll Ups with Smokey Honey Mustard Sauce – Hungry Hobby
Dipping sauces are key to getting my little ones to try new foods. Plus the fact that these roll ups use a pretzel as a skewer – genius!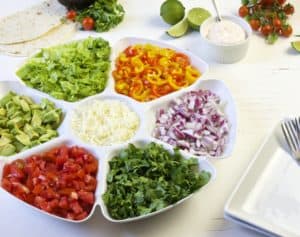 Build Your Own Burrito Bar – The Domestic Dietitian
A family favorite that can be prepped in advance, making last minute lunch a breeze.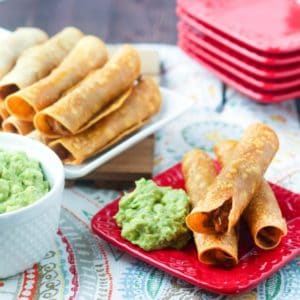 Oven Fried Chicken Taquitos – Hungry Hobby
Baked instead of fried, these classics get a healthy twist that kids and parents will both love.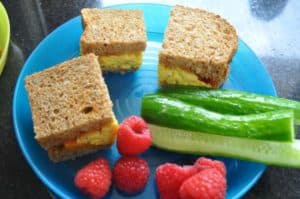 The Scrambled Egg-Wich – Sarah Remmer
I constantly forget that eggs aren't just for breakfast! My kids would love these eggs sandwiches morning, noon or night.
If you have any other great ideas or recipes that your kids love…leave them in the comment below, I'm always looking for new ideas!
No Comments