Post Holiday Healthy Lunch Idea
If you are anything like my family, then your holiday consisted of a carbohydrate filled feast. Which was followed up with leftover turkey sandwiches and endless amounts of pie. By Saturday, I felt like I was sweating mashed potatoes and was definitely ready for a healthy reset on Sunday. And by reset, I mean some vegetables and fruit in place of dinner rolls with butter.
While I was creating our meal plan for the week, I knew I needed to incldue an easy, post holiday healthy lunch idea. I wanted something light and simple but still tasty and filling.
So, I created this ultimate vegetable and fruit platter for our lunches this week. I grabbed some fresh carrots, cherry tomatoes, sugar snap peas, and sliced bell peppers for the veggie component. We had some grapes and raspberries leftover over from Thanksgiving Brunch so I utilized those as well. I made a double batch of this Barefoot Contessa Hummus and threw in some salami, pecans, and greek olives. I plan on adding some leftover grilled salmon for lunch tomorrow and have some canned tuna to add the day after for variety.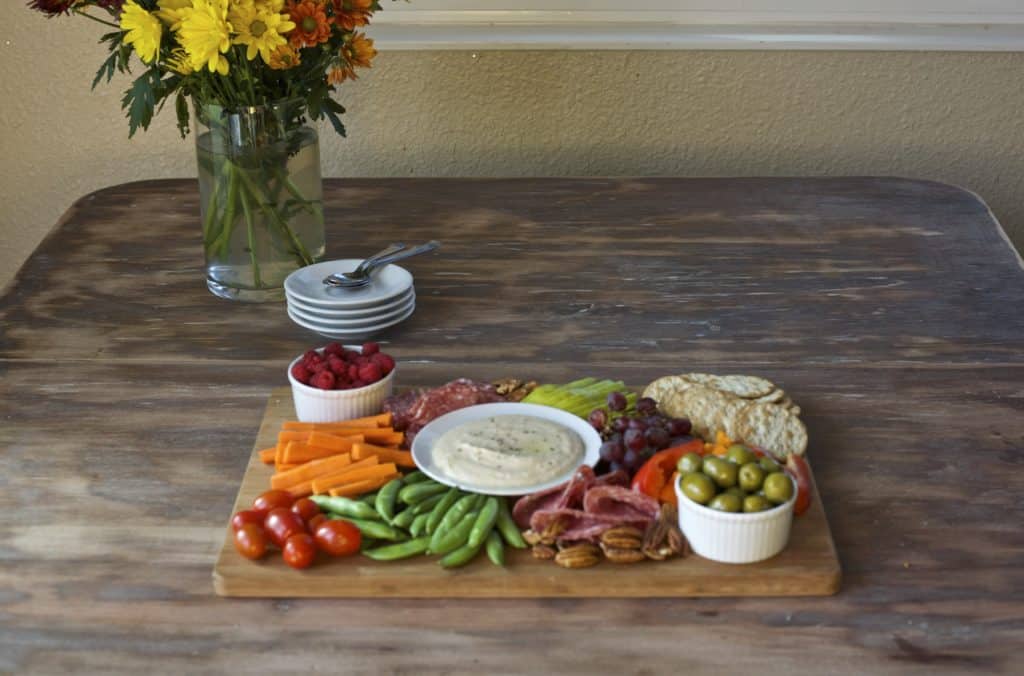 The best part is that you can prep all the vegetables and hummus in advance and then just have it all prepped and ready to go for quick lunches during the week. It's also completely customizable and can be made to include your favorite ingredients.
Additional Ingredient Ideas
Thinly sliced radishes
Crispy cucumber slices
Assorted Nuts (walnuts, almonds, pistachios)
Dried Fruit (apricots, dried apples, cranberries)
Grilled salmon, canned tuna, chopped chicken breast
The key is to include fresh vegetables of all different colors, healthy fat sources and some lean protein to create a complete meal.
The whole family dug into this board for lunch yesterday. I pulled it out again while I was cooking dinner to tide the kids over. I love anything that can be grabbed last minute to satisfy hungry kiddos.

No Comments