Chicken Souvlaki – The Best Meal I've Ever Eaten
Chicken Souvlaki recipe inspired by an authentic Greek dinner in the Mediterranean. Grilled chicken flavored with fresh herbs, lemon, garlic and tzatziki.
In order to truly appreciate this story, a tiny bit of background is needed. Hang with me and I promise I'll get to the good stuff (i.e. the food) ASAP.
Stranded in the Peloponnese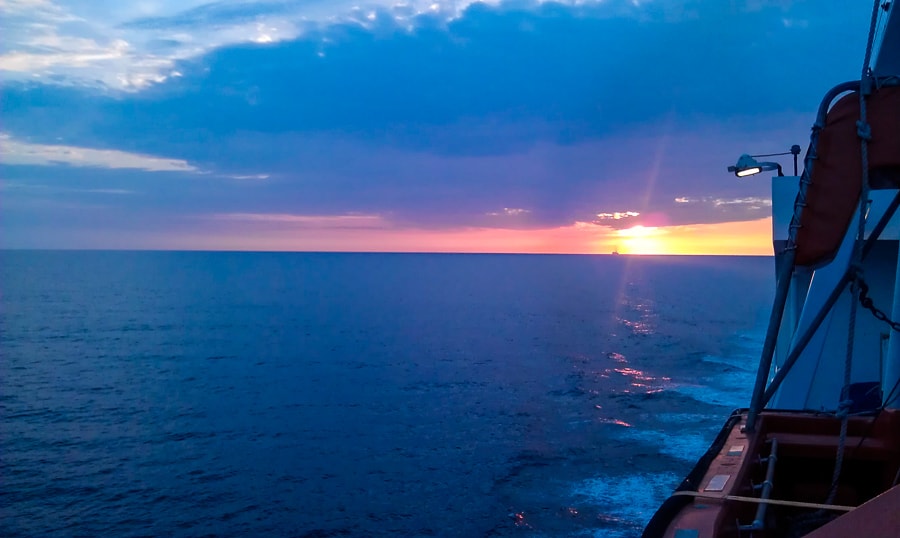 My husband (Dan) is a fly by the seat of his pants kind of guy. He never has a plan for anything but somehow everything always works out. You know the kind of person that just wakes up one day, decides to fly to some exotic location without a plan or itinerary…that's Dan.
In 2011, Dan and I went to Greece for the first time. It was the third (and final) country on what we call our "European Tour". We had plans to meet up with some of his family members that were also there and all stay together in Greece for the last 10 days of the trip.
Long story short – Dan had arranged for us to all stay at a co-worker's summer home in Greece. However, when we arrived there off the ferry, Dan could not get his co-worker to call him back and we were all stranded without lodging in a small island town.
To top it all off, we weren't staying in some tourist hot-spot in Greece. We were in a small town called Monemvasia – located on an island off the coast of the Peloponnese. Hotels and lodging were far and few between.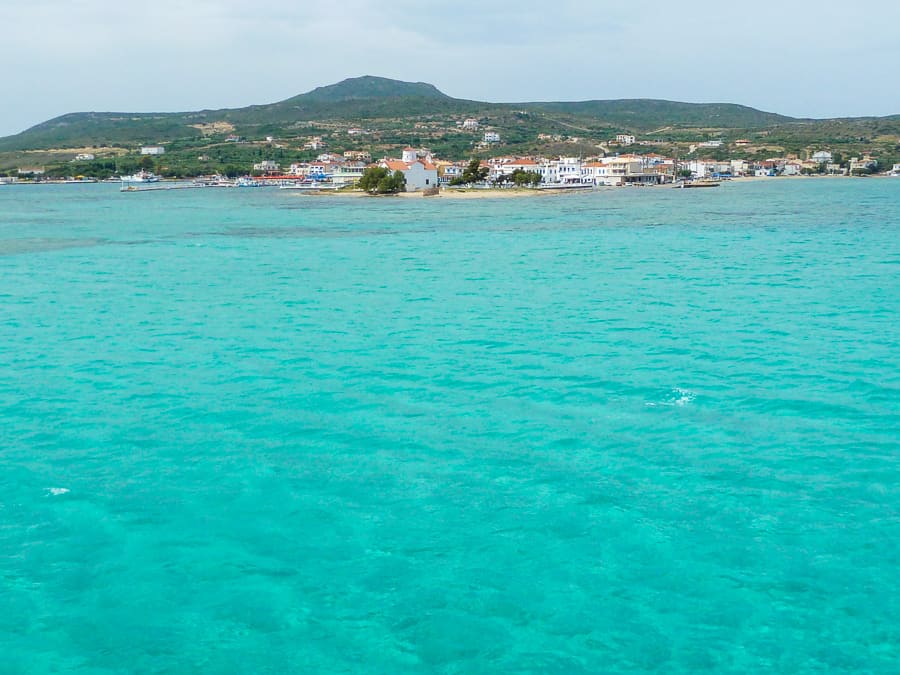 Orchard House to the Rescue
After countless vacations with Dan, I was well versed in his "plans" not quite working out, so I wasn't too worried (yet). His family however, was not used to this just roll with it lifestyle and were freaking out.
About 2 hours later, Dan had somehow managed to secure us 8 nights in the personal home of a nearby hotel owner named Jacob (pronounced yack-off).
His hotel was full, so he graciously allowed us to rent out his 5 bedroom childhood home for the insanely good price of like $40 a night.
It was amazing! A beautiful, stone house set in the middle of an olive and fruit tree orchard. It was close to the hotel, so we got to use the pool, but far enough away to feel very peaceful and secluded.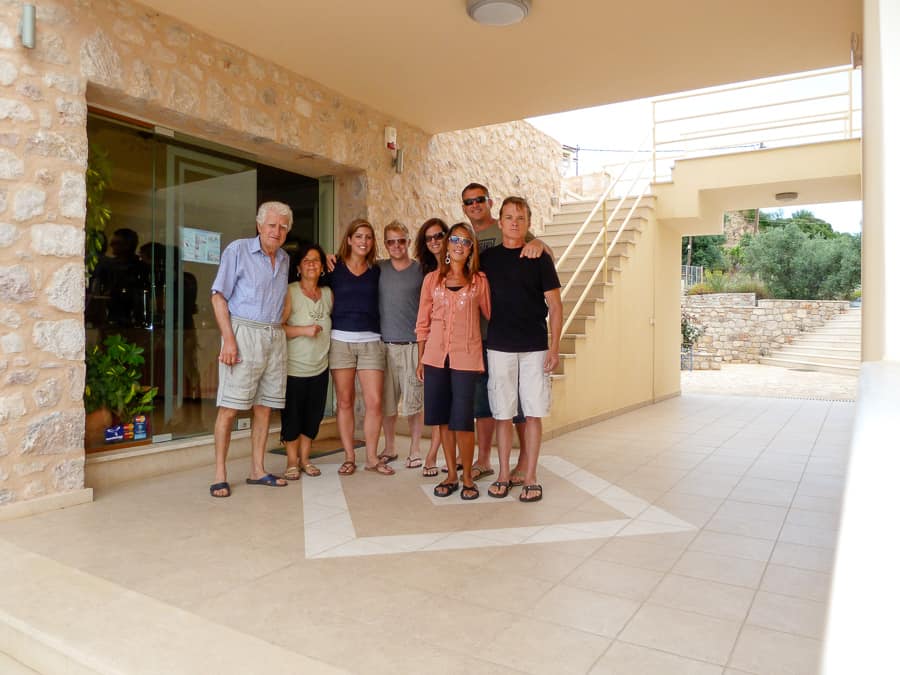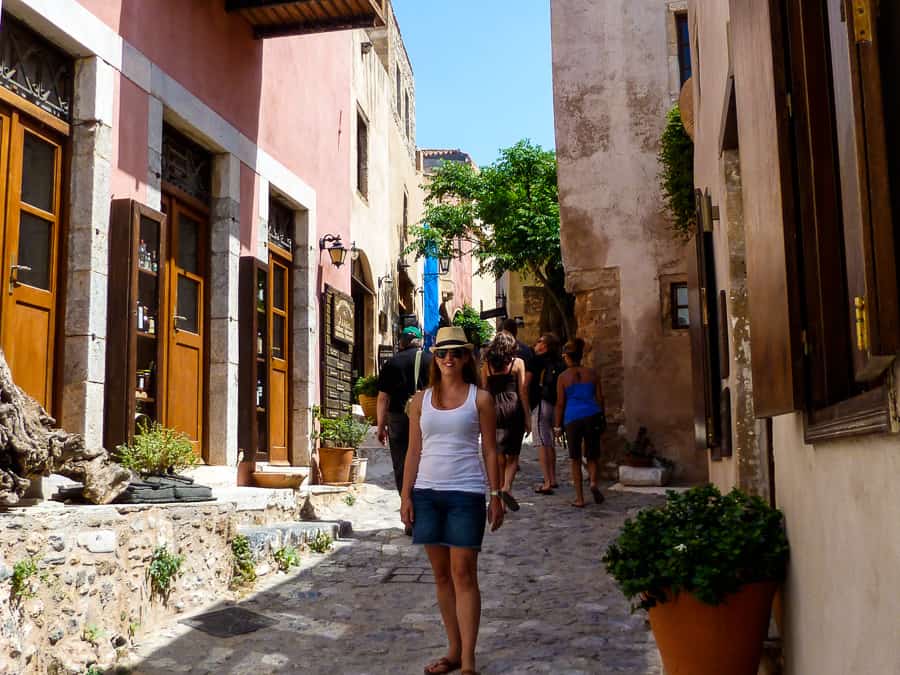 The Best Meal I've Ever Had
The food in Greece is amazing. Fresh seafood everywhere you turn, greek salads topped with garden ripe tomatoes, and the smoothest olive oil you've ever tasted.
However, the best meal I've ever had wasn't from a restaurant.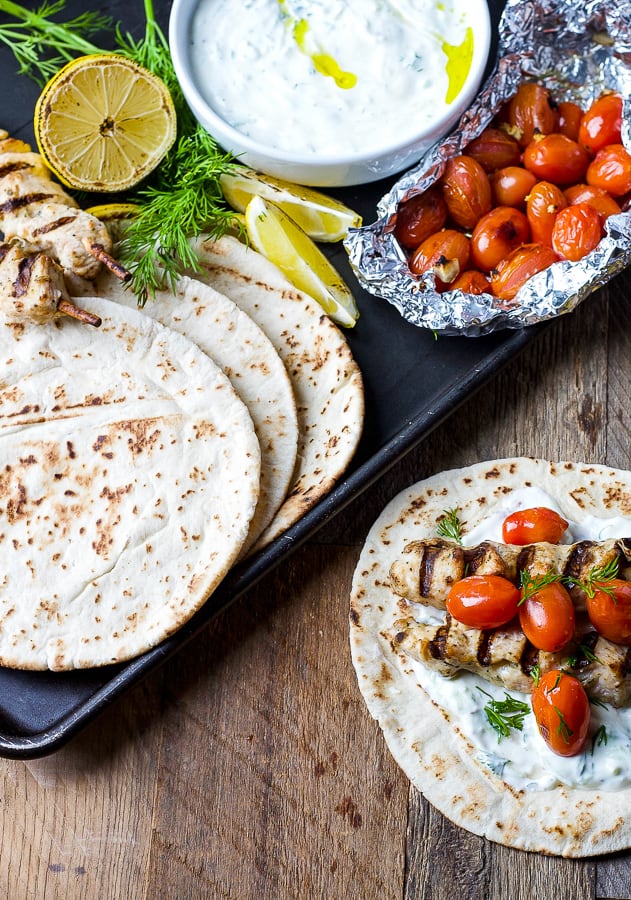 One night, while staying at the house in Greece, Jacob came over to "cook" us dinner. We weren't sure to expect, especially when he pulled up to the house at 8pm with just some chicken, lemons and pita.
He lit the fire pit out front and laid skewers of marinated chicken over the coals. After a few minutes of grilling, he placed the chicken in a slightly charred pita, squeezed with fresh lemon and topped with a dollop of tzatziki.
He handed each of us a pita and we stood right there by the fire and enjoyed the best chicken souvlaki we've ever had.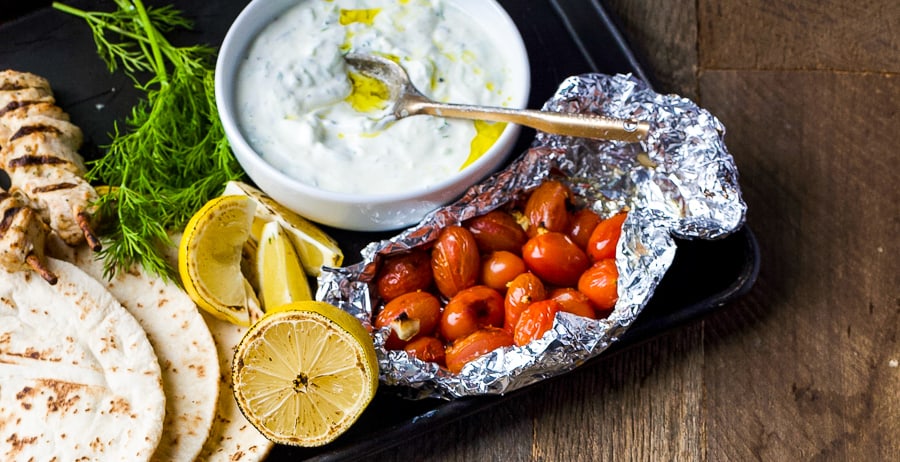 The flavor was amazing – so many great herbs in the marinated chicken, the pita was perfection and the squeeze of lemon on top was all you needed to bring all the favors together.
Chicken Souvlaki at Home
Since returning from that amazing trip, I have worked hard on recreating a similar recipe for Chicken Souvlaki.
A few tips for making this recipe really shine –
Marinading your chicken in herbs and spices is key to great flavor
Fresh lemon is mandatory
Charring your pita is a simple touch that brings it all together
Homemade Tzatziki (like this tzatziki recipe) is so simple to make and really tastes better than most store bought brands
I like to jazz it up a little by adding some roasted tomatoes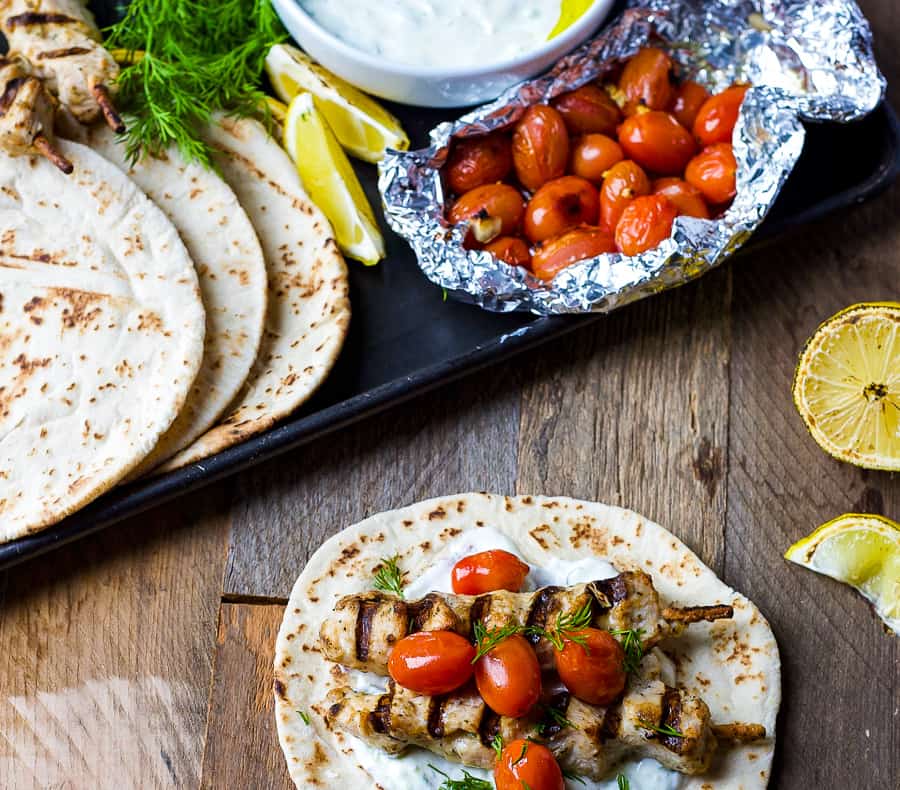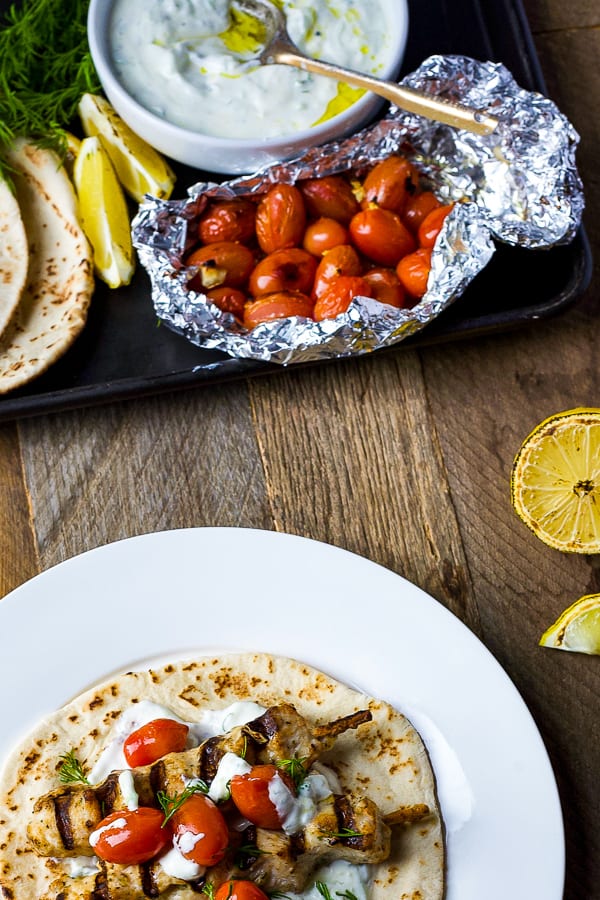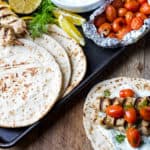 Chicken Souvlaki Pita
Inspired by a trip to Greece, this marinated Chicken Souvlaki is a mediterranean diet must have and full of great flavors like herbs, spices, lemon, and tzatziki
Ingredients
Chicken Marinade
1

lb

chicken thighs

1/4

cup

olive oil

1

lemons

2-3

cloves

garlic

minced

1

tbsp

dried oregano

1

tbsp

dried basil
Roasted Tomatoes
1

cup

cherry tomatoes

1

clove

garlic

minced

1 tbsp

olive oil
Putting it All Together
4

pitas

4

tbsp

tzatziki

1

lemon
Instructions
For the Chicken
Cut chicken thighs into 1-2 inch chunks and then thread onto skewers

Place the chicken skewers in a large plastic bag or dish large enough, and cover with olive oil, juice of 1 lemon, 2-3 cloves minced garlic, dried oregano and dried basil

Cover and refrigerate for about 30 minutes (can leave in marinade up to 24 hours)

When ready to cook, grill over medium-high heat until cooked through (about 5 minutes each side) or cook over stove on medium heat
For the Tomatoes
Place cherry tomatoes, olive oil and garlic in foil and seal tightly

Place in oven or over grill for ~10 minutes, until roasted and starting to burst
Putting it All Together
Take a pita and place chicken skewer, top with roasted tomatoes, 1 tbsp tzatziki sauce, squeeze of fresh lemon and chopped dill
Recipe Notes
1 Comment
dan

February 7, 2019 (2:43 pm)

Man with that new Tzatziki sauce, I thought its was super authentic.